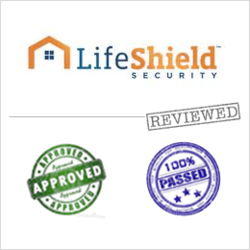 LifeShield is making big changes in 2013 and our experts took notice. The company is rolling out many new offerings and specials to help consumers get a affordable home security system.
New York, NY (PRWEB) April 17, 2013
AlarmSystemReport.com, a nationally renowned consumer review web site in the home security and alarm system market, announced today that they have completely their alarm system review of LifeShield Home Security as part of the company's annual ranking and review process for all of the country's best home alarm systems. LifeShield Home Security sells home alarm and security systems nationwide and also provides alarm system monitoring services on a contract basis.
In the review of LifeShield Home Security, Alarm System Report noted that, "LifeShield has taken great strides in 2012 to move up the list of alarm system rankings." The company is among the most affordable on the market, both for alarm system equipment and for service monitoring contracts. LifeShield also has an A+ Better Business Bureau ranking and consistently scores well in measures of customer satisfaction and customer service. The review on alarmsystemreport.com also noted the company provides strong technical support services for its DIY alarm systems.
"LifeShield Home Security was founded in 2004 as InGrid Inc., but several years ago the company decided to change their name, rebrand their service, and focus technology innovation, cellular and wireless alarm systems, and customer satisfaction. Their efforts have definitely paid off," said Steve Ordona, Alarm System Report head of public relations. "The company now has their own line of alarm system equipment that sells well, and the company is able to maintain high customer satisfaction ratings while providing one of the lowest priced monitoring services on the market. We expect good things from this company in the coming years."
The LifeShield review is part of Alarm System Report's ongoing effort to provide consumers and home owners with all of the most relevant information about alarm system companies. The company has been providing market research and consumer reviews for several years after it saw the need to help consumers avoid the overwhelming growth of fraudulent or otherwise unethical security companies that wanted nothing more than to make a quick buck.
Alarm System Report uses a panel of independent experts who do not maintain any financial ties with any of the home alarm companies reviewed on the alarmsystemreport.com web site to develop review criteria, create quantitative performance metrics, and coordinate the information gathering of fact checking of all data that Alarm System Report uses to create its final company reviews and equipment buying guides. Alarm System Report also employs a staff of professional review writers to create the content that it hosts for free on its web sites. All reviews, buying guides, tips sheets, and other industry analysis are available without the need for registration or the submission of any other personal information.
About Alarm System Report
As one of the most trusted consumer product review web sites in the US home alarm and security system market, alarmsystemreport.com provides hundreds of thousands of shoppers with the latest, most accurate information on all of the country's top home alarm systems. The company also publishes an annual ranking of the top five overall best home alarm systems, wireless alarm systems, cellular alarm systems, and DIY alarm systems.