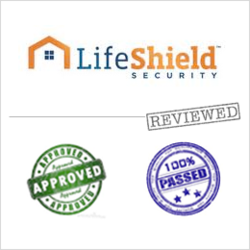 LifeShield offers one of the most affordable solutions that we would recommend. It's a great solution with a price to match.
Seattle, WA (PRWEB) January 10, 2013
For the second year in a row, LifeShield Home Security has made the list of best home alarm system companies. The rankings, researched, collated, and published by AlarmSystemReport.com, represent an annual comprehensive analysis and review of all of the nation's leading home security and alarm system companies. Top home alarm system companies like ADT Security, FrontPoint Security, Vivint Home Security, and Protect America are included in the company's reviews.
This year's review of best alarm system and security service providers required several months of research and took hundreds of hours of combined efforts from several leading experts in the home security market.
"It may not be news to most homeowners, but there are quite a number of fly by night home security companies out there trying to market fear to potential customers," said AlarmSystemReport.com head of public relations Steve Ordona. "At our company, we have reviewers and investigators who are hard at work trying to add a dose of reality to a service sector that's critically important to the safety and wellbeing of millions of Americans and their families. We're happy to report that LifeShield has earned a position among the very most distinguished security companies who are offering their customers the real deal. They're a top rate company with a highly respectable product and service to offer."
LifeShield is best known among industry experts for its perfect A+ customer service quality rating the US Better Business Bureau. The company does not have one single BBB registered customer complaint that the customer did not deem satisfactorily addressed. No other nationwide alarm system service provider and equipment vendor has quite that perfect of a record. LifeShield has managed to maintain that level of service over the past 10 years that it has been operating, earning itself a much deserved reputation for tremendous reliability and value.
LifeShield Security offers a variety of products and services, including wireless home monitoring equipment and a cellular monitoring plan. They are also one of the most affordable services for budget conscious consumers. Their basic wireless alarm system with remote access, as well as fire and medical monitoring, clocks in at a standard retail price of $29.99. (Specials and promotions can sometimes reduce this cost.)
"LifeShield uses proprietary equipment, which prevented them from being at the absolute top of our list, but other than that this company offers arguably one of the best values in the entire national home alarm and security market," said Ordona. "Seriously. I'm not exaggerating."
Consumers who would like to do so can compare alarm systems, read more expert advice, and find addition FrontPoint Security, ADT Security, Vivint Home Security, Protect America, and Life Shield reviews at AlarmSystemReport.com.
About AlarmSystemReport.com
AlarmSystemReport.com provides comprehensive coverage and reporting on the home security and alarm system industry. The company's experts have years' worth of experience researching, analyzing, and reviewing all of the country's top home alarm companies and strive to provide consumers with the most objective and up-to-date information possible about new products, companies' quality of service, and other emerging trends in today's rapidly evolving home security, home alarm, and home automation system markets.