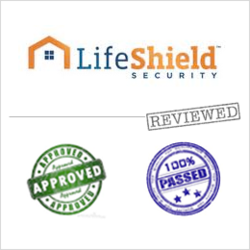 We're looking to help consumers get the fastest quote and pricing from each of the leading home security system companies.
Philadephia, PA (PRWEB) February 19, 2013
SecuritySystemReviews.com issued a statement today detailing new dynamic features that have been added to the company's industry leading home security system review and information web site. The company's new "instant quote" feature enables home security system buyers and other interested consumers to receive immediate, real time pricing information directly from home security system companies. LifeShield Home Security is the latest company to interface directly with SecuritySystemReviews.com's instant quote API, but a variety of other companies, including ADT Security, FrontPoint Security, Vivint, and Protect America have committed to providing similar functionality.
The new instant quote feature allows potential customers to quickly and easily enter a small amount of information about their home layout and security needs and receive an instant quote without having to wait for an email or sales call. The pricing information comes directly from the security system company and includes all of the company's latest promotions or other discounts, ensuring that consumers have access to the best pricing information available as conveniently as possible.
"One of the first questions home security system customers always ask is, 'How much does this thing cost?' Consumers aren't necessarily looking for the cheapest monitoring system or home security equipment on the market, but they definitely have an eye for value, especially since many markets are still in the nascent stages of economic recovery," said Tim Eveler, chief of public relations for SecuritySystemReviews.com.
In addition to the real time availability of pricing information now featured on most security system profiles hosted on SecuritySystemReviews.com, web visitors also have access to all of the latest reviews and rankings of the best home security systems and monitoring services. SecuritySystemReviews.com hires a panel of expert home security and alarm system consultants to review all of the nation's top security system equipment and service providers on an annual basis. In addition, in house experts update reviews and provide a variety of tips and other helpful content for homeowners interested in purchasing a new home security system.
"Pricing is important to our readers, of course, but so is an understanding of exactly what they're getting for their money. At Security System Reviews, we offer our readers comprehensive reviews and a detailed understanding of the companies they're considering. It's a responsibility we take seriously because we know our readers will be relying on one of these companies to safeguard their homes and families."
Readers interested in learning more about home security system market and all of the nation's leading home security system providers should visit SecuritySystemReviews.com.
About SecuritySystemReviews.com
SecuritySystemReviews.com, a nationally recognized leader in the home security system consumer review space, has dedicated itself to transforming and holding accountable the home security market by publishing and disseminating high quality, expert researched consumer reviews of all of the leading home security system companies. The company's researchers, staff writers, and home security specialists work hard to ensure that all of the company's reviews, tips, reports, and other consumer oriented content are accurate and filled with as much fact checked and independently verified information as possible. The company's goal is always to help consumers make a security system purchasing decision that will meet their own unique needs.