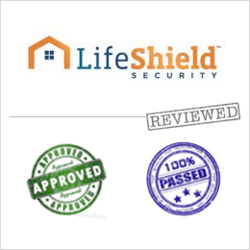 We occasionally update our security system reviews to ensure that consumers are always given the most accurate information available and recent updates with LifeShield required us to make an update.
Detroit, MI (PRWEB) May 22, 2013
LifeShield Security has always been considered one of the best home security companies by SecuritySystemReviews.com because of several important factors. Just recently, the leading online reviewer released an updated security system review, which discusses what makes LifeShield a success in industry; being the alarm system of choice for more than a million Americans.
According to the LifeShield review by home security experts at SecuritySystemReviews.com, one of the main features of LifeShield security systems that attract homeowners is its simple easy to install alarm devices. The entire system can be installed in a matter of minutes without causing too much stress. Besides offering a do it yourself security system, LifeShield has also decided to retain its professional installation service for customers who prefer it. This is deemed as a smart move by SecuritySystemReviews.com as the company is able to cater to homeowners who want to do away with installation fees, and those who want a technical professional to do the installation for them.
LifeShield has partnered with Protection 1, which is one of the nation's largest home security providers, to further extend its brand and services to cities and smaller towns throughout the United States. The company uses wireless security systems, which include the main control unit and sensors. It is to be noted that the company's security equipment is proprietary. Although this may perceived by some as a disadvantage, this business strategy has helped the company offer affordable security solutions that are unmatched in the market. Despite offering low prices, LifeShield guarantees that their equipment and services still meet industry standards. They are also known to provide great service when interacting with existing customers and prospective clients.
Experts at SecuritySystemReviews.com believe that LifeShield priorities lie on offering quality wireless home security systems accessible to all households regardless of shape and size. The company does this by giving the lowest monthly monitoring prices. LifeShield's various security packages including Gold, Silver, Platinum, Business and Renter can come with free equipment.
SecuritySystemReviews.com points out that one disadvantage for the company is its limited warranty, which typically extends for a year after the date of purchase. The warranty can also be used by the original purchaser of the system. Experts from the website recommend that customers who wish to arrange extended warranties and related options should discuss these with the company. After all, LifeShield prides itself for providing outstanding customer service. In fact, the company created an online Knowledgebase, where customers can get answers to their questions and concerns easily and quickly. A number of LifeShield customers have been vocal about their satisfaction with the company's customer care.
Matt from Michigan described LifeShield as "A great product and outstanding customer service."
Log on to SecuritySystemReviews.com to discover other features of LifeShield Security Systems, as well as acquire quotes and coupons.
About SecuritySystemReviews.com
SecuritySystemReviews.com is described as an online watchdog that is watching over the home security systems that are trying to dominate the market. On the website, prospective and existing clients can read extensive reviews and rankings to help make important decisions such as purchasing or retaining a particular home security system.