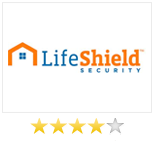 LifeShield has made major strides to improve it's business and offer consumers a better service in 2012. 2013 should be a good year for them.
Dallas, TX (PRWEB) January 11, 2013
SecuritySystemReviews.com, a leading publisher of the best security system reviews on the market, has completed its annual report on LifeShield Home Security, one of the nation's fastest growing home security system resellers and monitoring service providers. While writers and research assistants at SecuritySystemReview.com conduct ongoing research on all of the security companies listed on their web site, the annual report stands as an authoritative report for comparing all of the leading security system companies with one another.
LifeShield Home Security scored well in its review, earning four stars out of a maximum five star rating. Only three companies—FrontPoint Security, ADT Security, and Protect America—have managed to score higher among all of the companies included in the annual review and rankings.
Using statistics, survey information, and independently verified information about LifeShield Home Security's equipment and services, the review specialists at SecuritySystemReviews.com indicated that several factors contributed to LifeShield's overall positive rating. The areas in which the security company scored especially well include its monitoring service plan affordability, the diversity of high quality monitoring options available—including cellular based and broadband Internet based monitoring, the reliability and performance of its wireless control panel and other sensors and monitoring devices, and its smart phone apps that include options for streaming live security feeds from installed wireless security IP cameras.
"LifeShield is one of those companies that came out of nowhere a few years back and made a big wave with their wireless equipment and their rock bottom prices," said Tim Eveler, the public relations head at SecuritySystemReviews.com. "While customers may be able to find more affordable options if they find a good special or other coupons or promotions, in general LifeShield has some of the very best service plan prices on the market. But, we have to be honest. There's something of a tradeoff. To get those prices, consumers have to agree to fairly long service contracts—typically, three years or more."
The complete LifeShield Security review is available at SecuritySystemReviews.com.
In addition to its national rankings of home security system equipment resellers and monitoring service providers, SecuritySystemReviews.com has begun to research and publish reports on leading security system companies in all 50 of the United States. Consumers and interested readers can find out more information at SecuritySystemreviews.com
About SecuritySystemReviews.com
SecuritySystemReviews.com, one of the top home security system reviews and consumer research publishers, maintains a popular, high traffic website with reviews, articles, and other contributions from top home security system and alarm specialists. The company's staff writers and researchers, as well as contracted independent expert consultants in the home security field, work full time to ensure that all of the company's security system reviews, consumer recommendations, and additional related content are accurate with and updated with the most recent data, and also filled with as much independently confirmed information as possible to help make certain that consumers have the ability to make the best decision possible that's right for them about their home's security. Additionally, SecuritySystemReview.com publishes a list of annual rankings of the top home security systems, as well as the best wireless security systems, leading DIY security systems, and the best home automation systems.