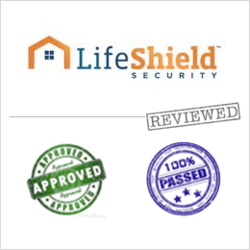 When it comes to DIY alarm systems, our experts have to give a nod to the most affordable solution on the market.
Atlanta, GA (PRWEB) December 17, 2012
The home security experts at AlarmSystemReport.com, one of the web's top consumer alarm system review and information publishers, announced today that they have named LifeShield Security to their list of top do it yourself alarm systems. LifeShield Security joins other alarm systems companies, such as FrontPoint Security, Vivint Security, ADT Security, and Protect America on this year's list.
In the company's web review, LifeShield Home Security was praised by reviewers for its high degree of affordability, its simple and easy to understand installation process, and its excellent results on customer satisfaction and customer service quality surveys.
Based on statistics collected and analyzed by fact checkers at AlarmSystemReport.com, LifeShield Security offers some of the most competitively priced and affordable service monitoring plans available from any nationally recognized home alarm system company. LifeShield's monitoring plans include traditional wired and phone line ones, as well as wireless home alarm systems and cellular or broadband Internet based monitoring. One of the main driver's behind LifeShield's low rates is the amount of time the company asks customers to commit to in their service contracts. For the best rates, customers must sign a contract that ranges from 39 months to 63 months.
"LifeShield Home Security offers a somewhat unique and definitely interesting value proposition," said Steve Ordona, head of public relations at AlarmSystemReport.com. "What the company has essentially done is tell customers: If you commit to us over the long term, then that gives us the confidence—the assured revenue stream we need as a business—to offer you rock bottom rates and one of the best deals in the entire industry. Now, that deal might not be for everyone, especially families that think they might move in the next two or three years. But for people who've settled down and value the peace of mind that a home security service brings, LifeShield most definitely deserves a very careful look."
In addition to LifeShield's affordability, customer survey results show that LifeShield customers are some of the most satisfied in the market. The company has a high Better Business Bureau rating and offers an online knowledge base that helps customers troubleshoot the simplest of issue (or even complex ones if they would like to on their own).
The one factor that reviewers cited as prevented LifeShield for achieving a perfect score in this year's rankings was its equipment warranty. While many companies offer a two year warranty, LifeShield's standard warranty is for one year.
Interested homeowners and potential home alarm system customers can read the complete LifeShield review at alarmsystemreport.com, as well as reviews for other leading home alarm and security system vendors and monitoring companies.
About AlarmSystemReport.com
AlarmSystemReport.com, one of the top home security alarm system reviews and consumer information providers, maintains a highly active website with contributions from leading home security and alarm experts. The company's staff writers and researchers work full time to ensure that all of their review content, recommendations, and other reports are accurately fact checked and filled with as much unbiased information as possible to ensure that consumers can make the decision that's right for them. AlarmSystemReport.com also publishes annual rankings of the best alarm systems for the home, as well as the best DIY alarm systems, the best wireless security systems, and the best home automation companies.