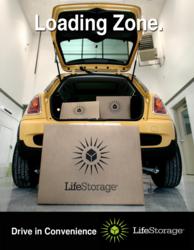 There are a lot of families struggling in the community and The Pantry is a wonderful savior when it comes to being short on funds to buy food for your family
Matteson, IL (PRWEB) September 27, 2011
LifeStorage Matteson, Chicago self storage provider for home and business storage, is proud to announce its continued support of The Pantry of Rich Township. The LifeStorage Matteson facility is holding a yard sale on October 1st from 9 am to 4 pm, located at 21700 S. Cicero Ave. Matteson, IL 60443. Residents looking to clear space during fall cleaning, or that have any items they've been meaning to get rid of, are encouraged to donate items to LifeStorage by September 30th. All sales will benefit The Pantry.
The Pantry is a non-for-profit, Salvation Army Unit extension, providing qualifying families non-perishable food items, personal care products, disposable diapers, and baby formula. It also offers limited utilities assistance. Once every year, families that receive shut-off notices from the electric or water companies can receive $50 towards outstanding bills.
For LifeStorage Matteson store managers Allison Thompson and Michael Gray, this is just another in a series of events dedicated to helping raise food and money for The Pantry so far this year. Thompson and Gray have an ongoing food drive at their location, participated in a hunger walk, and held a charity car wash. Altogether, they've raised over $1100 in food and money donations. The yard sale is another way they're working to help out The Pantry and their community.
"There are a lot of families struggling in the community and The Pantry is a wonderful savior when it comes to being short on funds to buy food for your family. It not only helps with the food and utility bills, but even buys presents for young ones under the age of 10 at Christmas time," Thompson said. "It's a worthy charity and the yard sale should further help provide for families in need."
"We'll take clothes, electronics, dishes, pots, pans, furniture, tools, toys, linens, yard equipment, bikes, knick knacks…just ask us and we'll let you know if we will take it or not. Anything that you are not using or needing and were wondering how to dispose of, please let us know we will help you figure it out," Gray adds.
Vicki Sline, director of The Pantry, is grateful for LifeStorage's continued support. "There are no overhead costs for The Pantry. It's up to me to go out and procure to help feed the 900-plus families requesting aid per month. People have to remember, all it takes is one lost paycheck and those people, no matter what situation they were in, will still feel a crunch. Every cent that comes in to The Pantry goes right back out into the community."
"We got to know them since we have storage lockers (at their facility), and that's how our relationship began. It's amazing that people still care in these desperate times as they do. We thank LifeStorage for their continued efforts of helping us," Sline said.
For those interested donating, please call the LifeStorage Matteson facility at 708-279-4138.
For more information on The Pantry, please visit: http://www.richtownship.org/pantry.asp
Or to find a LifeStorage location near you, please visit: http://www.lifestorage.net/self_storage/locations