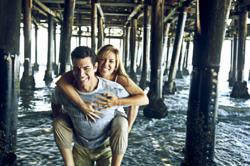 Your home is your haven and your body is your temple.
Rancho Santa Margarita, CA (PRWEB) January 09, 2012
Two of the things that matter most to most people – their body and their home – can be tackled – and enjoyed – together, thanks to the Lifestyle Designers, a husband and wife team of John Spencer Ellis and Kelli Ellis.
Bringing their health and home expertise together in unique events and online downloads, John Spencer Ellis is a fitness and personal development guru as well as a celebrity personal trainer with decades of health and fitness expertise, and Kelli Ellis is an interior expert, design psychologist and celebrity designer who was recently voted one of Luxe magazine's "Editor's Top 10 Designers" and "Top Interior Designer in Orange County" by OC Metro magazine. They bring their dual passion for better living together as the Lifestyle Designers team.
"With our Lifestyle Designers services, we help people laugh, learn and life their life to the fullest with a variety of tips for health and home," said John Spencer Ellis. "Our events and online videos help people optimize their home and their body like never before, creating the conditions for true success, joy and fulfillment."
The Lifestyle Designers offer:
Insider tips and tricks to finding the best deals for your home;
Top celebrity trainer secrets for boosting your metabolism;
High-impact, high-value and free home design changes that can be made in an afternoon;
Diet shortcuts that work for every body;
Secrets direct from HGTV, TLC and BRAVO that turn a house into a haven;
And more.
"Our goal in our fun and action-packed seminars is to give people instant clarity, direction, motivation and resources to create a beautiful and functional home and sanctuary while offering great information about long-lasting fat loss and easy-to-follow tips for getting in shape and maintaining your ideal weight for life," Kelli Ellis added.
Lifestyle Designers videos and tips can be ordered and viewed at http://www.thelifestyledesigners.net/
###