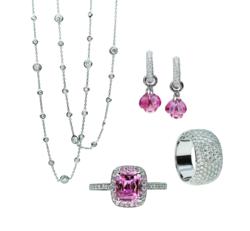 San Francisco, CA (PRWEB) February 12, 2013
Union Street Goldsmith, a custom jewelry maker in the Marina District, is showcasing their new pink Sapphire designs. Perfect for Valentine's Day, these designs feature natural pink Sapphires in a range of sizes and price points. These new designs are hand fabricated and as always, Union Street uses metals that are 100% recycled.
Sapphires are the most durable precious gemstone next to diamonds, making them ideal for everyday wear. Pink Sapphires, specifically, come in many different tones, from pale pink to vibrant hot pinks. The pink Sapphire is just as valuable as, and sometimes even more expensive than a high quality blue Sapphire.
Featured at Union Street is the new, breathtaking diamond halo ring with a 3.09 ct cushion cut brilliant pink Sapphire. They also have dangle earrings or simple studs to match. If customers would like to use, or find their own setting, Union Street also has loose pink Sapphires in a variety of sizes, tones, and prices.
Union Street Goldsmith has been creating hand-crafted jewelry since 1976, and has the best selection of diamond rings, engagement rings, and wedding bands. To see any of those, or their colorful collections of jewelry, please visit their website at: http://www.unionstreetgoldsmith.com or stop into the store at 1909 Union Street.
About the company:
Glenda Queen, with a background in arts and crafts, entered the jewelry business in 1964. After eleven years making jewelry at McLeans in Sausalito, she and her present partner Terry Brumbaugh, opened Union Street Goldsmith. Glenda chose a neighborhood she hoped would be a comfortable setting for her craftsmen as well as her clients and it worked. Terry Brumbaugh, raised in the jewelry business, later became a Gemologist. After an extensive period of travel, he joined with Glenda to head up the Union Street Goldsmith sales staff. Terry has a rare gift for his memory of client's collections, enabling him to design new pieces to fit his clients' special tastes and their collections. An excellent sense of style and fashion endows Terry with the ability to give valuable guidance to his clients in their jewelry selection, helping each one to create an overall special look within their collection.