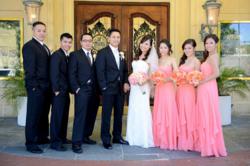 Plano, TX (PRWEB) April 03, 2013
Wedding weather is beginning in Dallas, and soon brides will be planning and organizing and going to fittings all over the city. At Fit Tailor in Plano, brides can have high quality alterations done on their wedding dresses, or even have a dress custom-created. From the simplest hem, to more difficult jobs, the seamstress at Fit Tailor has the experience and knowledge to get the perfect fit.
The process for the design and creation of the dress is simple. The client should set up an appointment for a consultation with the Fit Tailor seamstress, Alyssa Ho. Alyssa will discuss with the bride what exactly the bride wants for her wedding gown; going over details like styles, fabrics, and embellishments. Then after the dress details are decided upon, the bride has periodic fittings until the dress is complete. There are usually 4 to 5 fittings before the completion of the dress, and dress prices vary depending on the complexity of the work and the design elements chosen.
Not only can Fit Tailor handle the design and creation of the bride's dress, but they can make the entire wedding party look amazing. From the groom and bridesmaids to the parents and flower girl, Fit Tailor can help clients achieve the overall look they want.
Getting a custom wedding dress doesn't have to be a stressful or complicated task. Fit Tailor can make the process easy, and brides can get the exact look and design they want. For information or to make an appointment for a consultation, please call (972)758-9988.
About the company:
With keen eyes and an attention to details, Fit Tailor provides the highest quality alteration services to get that perfect fit. Alyssa Ho, the seamstress, has a degree in fashion design. After graduating from the Art Institute of Philadelphia, she worked for Nordstrom's alterations. She is now applying her experience and skills at Fit Tailor. Fit Tailor is determined to provide the best alteration services in the Plano area. They want to be considered the first name when it comes to any sewing needs. Their alteration services will coincide with current fashion trends and are ensured to be the perfect fit for the customer. Offering custom alterations, custom wedding gowns, formal gown alterations, and suit alterations, Fit Tailor provides the best alterations in the Plano and Dallas/Fort Worth areas. For more information, or to stay updated on Fit Tailors news, please visit their Facebook page: https://www.facebook.com/FitTailor.