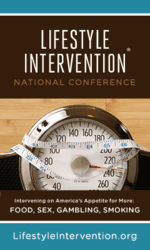 Nothing is more rewarding than seeing multiple wellness industries choose our conference as the must-attend event for 2012.
Los Angeles, CA (PRWEB) October 16, 2012
American Addiction Centers founder, behavioral health expert and acclaimed author of Believable Hope, Michael Cartwright proudly announced today that the second annual Lifestyle Intervention Conference more than doubled previous attendance records and was supported by leading wellness, process addiction and mental health experts from around the globe. Industry leaders walked away from the event calling the Lifestyle Intervention Conference the most anticipated, respected and important gathering of wellness industry and process addiction professionals for 2012.
Along with several of the industry's most respected innovators and personalities, Michael Cartwright was joined by national figures like CRC Health Group's Four-Star General (Ret.) and former White House Drug Czar Barry McCaffrey; Tennie McCarty (LCDC, ADC III, CEDC, CAS), founder, and CEO of Shades of Hope, one of the world's most renowned all-addiction treatment centers, specializing in the intensive treatment of eating disorders; Joe Nadglowski, president of the Obesity Action Coalition and founder of Change Institute and Co-Host of the event Brad Lamm. Mr. Lamm is also a respected author, educator, and regular on The Dr. Oz Show. The event also featured a special performance by legendary rock musicians from Rockers In Recovery; 1998 Grammy Winner Singer/Song Writer Richie Supa from Aerosmith and Richie Sambora, Ricky Byrd, a 2012 and 2013 Rock & Roll Hall of Fame Nominee and formerly of Joan Jett and the Blackhearts, and Kasim Sulton of Todd Rundgren and Utopia, Meat Loaf, and Joan Jett to name just a few.
Michael Cartwright said, "We founded the Lifestyle Intervention Conference with the intention of building the most influential wellness and process addiction symposiums in the world; judging from the caliber of participants and exceptional attendance, I'm honored to say that we are closing in on our goal well ahead of schedule." Mr. Cartwright added, "Nothing is more rewarding than seeing multiple wellness industries choose our conference as the must-attend event for 2012."
About The Lifestyle Intervention Conference
Michael Cartwright and Brad Lamm joined forces in 2011 to develop a new frontier for health, wellness and awareness. In less than a year, the Lifestyle Intervention Conference has become the premier event for the world's top health, wellness and process addiction leaders. For 2012, Mr. Cartwright's company American Addiction Centers (parent company of FitRx, Greenhouse, Forterus, and a growing number of top treatment providers across the country) has once again gathered the best minds in the world and the Lifestyle Intervention Conference is poised to shift consciousness to yet another level. Created with the intention of building a network of resources within the community of providers who serve those struggling with obesity, food addiction and now including a focus on process addictions, The Lifestyle Intervention Conference continues to be the most critical, industry-changing event to impact the health, fitness and wellness communities in decades.