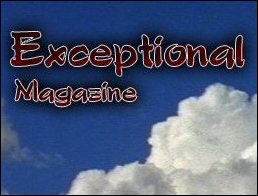 The goal of Exceptional Magazine is to inspire readers through stories about people who are making history – from rags to riches stories, to overcoming adversity and achieving personal triumph, changing their communities and the world
Herndon, VA (PRWEB) November 8, 2006
Exceptional Magazine is a creative and upbeat global bi-monthly online publication containing real life stories and news for national and international audiences. Exceptional Magazine takes an innovative approach to showcasing some of the world's most extraordinary people and their accomplishments, revealing why they are successful at what they do and the motivating factors that make them excel. "The goal of Exceptional Magazine is to inspire readers through stories about people who are making history – from rags to riches stories, to overcoming adversity and achieving personal triumph, changing their communities and the world," said Monica Davis, editor-in-chief of Exceptional Magazine.
Exceptional Magazine is the place for the best in good news, inspiration and success, thought-provoking editorials, great commentaries, live interviews and factual articles about everyday living. Exceptionalmag.com's goal is to deliver content that is inspiring, current and life-changing while offering unique opportunities to achieve success. As the publication continues to evolve, new and extraordinary ideas will be implemented to help members achieve success both personally and professionally and inspire them to reach out to their community and make a difference. Exceptional Magazine's creativity is not limited by printed content, and as a result, new content will be added throughout the life of each issue with the availability of access to archived issues.
Members of Exceptionalmag.com will get the opportunity to e-mail money questions directly to a financial expert for help on how to manage finances and investments; view videos and peruse articles about ordinary people, celebrities and high profile individuals and how they overcame adversity and achieved success; read an array of articles to help them live a more fulfilling life including fine dining from top restaurants and recipes that can be prepared at home; the best news and updates in health care, finance and investing, and careers from people who manage the top companies and organizations in the country, and much more.
Additional opportunities include participating in teleconferences with key people from various Fortune 500 companies, the country's leading small business owners, celebrities, self-made millionaires and billionaires, financial leaders, internationally recognized health care providers and doctors and some of the country's top chefs, humanitarians and others. This is just the beginning of what members will receive as Exceptional Magazine moves forward.
In the November-December 2006 issue of Exceptional Magazine, Davis writes the story of Kirby, a teenager diagnosed with a neuro-genetic disease that results in the loss of the ability to walk, speak and move. Davis writes of Kirby's parents, and their persistence and determination in helping Kirby and others with the disease.
"Being faced with such adversity can be a test of your faith, and it opens your eyes to what's really important in life," Davis wrote in the article.
In addition to Kirby's story, the November-December 2006 issue of Exceptional Magazine contains articles on monitoring stress at work and a profile of a successful business owner.
The content of Exceptional Magazine is fee-based, but some content is available to all Web visitors. The magazine is published bi-monthly. As an introductory offer, a two month subscription to Exceptional Magazine is $3.95, a six month subscription is $5.95 and a one year subscription is $10.95. More information can be found at the magazine's Web site, http://www.exceptionalmag.com.
About Exceptional Magazine
Exceptional Magazine was founded in 2006 by editor in chief Monica Davis, who is also the president and founder of Atela Productions, Inc. Exceptional Magazine brings readers the very best in content through its talented, experienced and professional writers and journalists, many of whom are successful columnists, authors, speakers and entrepreneurs.
About Atela Productions, Inc.
In 1999, Atela Productions, Inc. was formed to produce a range of entertainment products primarily for the television and Internet industry, providing high-quality, mind-broadening entertainment. The company's mission is to promote among people of all socio-economic backgrounds a renewed vision, unity and better living through positive media events.
Contact:
Monica Davis
(703-435-3888)
###