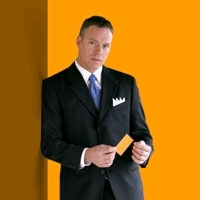 Tell me what you want… I'll show you how to get it!
Woodbury, MN (PRWEB) February 11, 2010
Dr. Tory Robson, Minnesota author and Life Success Consultant, will be teaching his innovative OrangeCard Goal-Setting and Success Workshop Saturday, February 20, 2010, in Woodbury, MN.
The OrangeCard is the ultimate tool for those who want to achieve higher levels of personal and professional success. Based on the Master Success teachings that have been passed on for hundreds of years, the OrangeCard system combines proven techniques with new innovative methods for achieving life success in modern times. Featuring the Law of Attraction, the Law of Vibration and many other Universal Laws that anyone can learn!
The OrangeCard Workshop is from 9 a.m. to 2 p.m. at WinnersEdge Consulting, in Woodbury, Minnesota. During the workshop, attendees will learn how to make their dreams reality as they create their own tools for achieving love, health, career and money success with Robson's time-tested and proven methods. Including his proprietary Vortex Accelerated Saving System and Rapid Fire Debt Elimination System, to name a few.
The Life Success Consultant motto is: Tell me what you want… I'll show you how to get it!
Early registration online at http://www.winnersedgeconsulting.com is essential, as seating for the event is extremely limited to just 15 guests. Ask about the special student offer.
For more information and a complete schedule of the Winners Edge Consulting services and events, please visit the website. For more goal-setting and life success advice from Robson, subscribe to his free monthly Success Video series (SVS) and check out his recent book, The Image Doctor, available now on amazon.com or for Free on the website.
About Dr. Tory Robson
Robson graduated from Montana State University with a Bachelors Degree, while simultaneously completing a six-year term with the US Air Force. He earned his doctoral degree in 1995 and has designed and built 6 businesses from scratch. He also is licensed as a Life Success Consultant by the prestigious Bob Proctor Organization, Robson founded Winners Edge Consulting; a Minnesota-based firm specializing in personal and professional success consulting for individuals and businesses small and large.
Robson can be contacted for interviews at 651-746-9036 or for more information on the OrangeCard workshop or life success consulting, please visit http://www.winnersedgeconsulting.com.
# # #