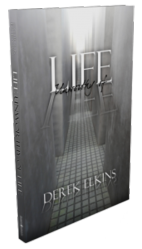 What if one group of people had the power to decide who could live and who would die? What if one group decided which lives were worthy and which ones were unworthy of life?
(PRWEB) September 14, 2012
Athanatos Christian Ministries has signed a contract with Missouri author Derek Elkins, who wrote "Life Unworthy of Life." This book was the winner of ACM's Christian Novel Contest in 2012. The book is expected to be released in the spring of 2013.
The Executive Director of ACM, Anthony Horvath, said that the book will open people's eyes to some truths about the Nazi holocaust.
"Though the book is fiction, it is based on real events that transpired during World War 2," he said. "Medical doctors were tasked to kill 'defectives' who were a burden on society and a blight on the purity of the race. Before you chalk that up as ancient history, realize that just a few weeks ago an editor of a prominent medical ethics magazine said the same thing, and even said, and I quote, 'you could argue that people have a moral obligation to select ethically better children.'"
Horvath himself is firmly opposed to such a mindset. Under the Nazi regime, his daughter, who has spina bifida, would have been eliminated. Under Julian Savulescu's regime, he and his wife would have been 'encouraged' to abort her. The reason would be the same in both cases: she is 'defective.' "The difference, as I see it," says Horvath, "is merely the timing of the 'elimination.'" Horvath wrote a book about his experience called "We Chose Life: Why You Should Too" and speaks throughout the country on life issues.
Explaining the genesis of "Life Unworthy of Life", Derek Elkins said it began with a play he was in while in high school called the "Crucible" which ostensibly was about the Salem Witch trials but actually was a scathing criticism of the hunt for communists among the Hollywood elites. "I knew that C. S. Lewis had done the same, an analogy, with the "Lion, the Witch and the Wardrobe" and I wanted to do something similar. God planted in my mind an idea that might make people look at abortion and eugenics in a whole new light. Hopefully, my book would enable readers to come to the conclusion that all life is worthy of life and not just life that we deem worthy."
Elkins says that because this was his first foray into historical research, he had to do a considerable amount of research. "I'd hate to think that a reader would be sidelined by historical inaccuracies. That would defeat the entire purpose of the book."
Since learning that his book is going to be published, he has been doing even more research into the background of Nazi ideology. He says, "It has been interesting to discover that the ideology behind the Nazi eugenics program actually originated within the United States prior to World War One."
"Life Unworthy of Life" centers on a young doctor who is involved in the T4 Program, which is the program initiated by Hitler to rid Germany of all the physically and mentally handicapped children and adults. During the course of the story, the doctor starts with the attitude that death would be preferred over life for those who did not possess as full a life. With the assistance of his brother, a Catholic priest and a patient that he learns to admire despite the handicap, the doctor comes to realize that not only was his prior thinking completely wrong but that all people, regardless of their social, physical or mental condition have a basic right to life that no person or government has a right to take away.
The title is drawn from the German "Lebensunwertes Leben" which is in turn drawn from a book by Karl Binding and Alfred Hoche, both professors in Germany when Nazism was on its ascent. The full title is "Die Freigabe der Vernichtung Lebensunwerten Lebens" and translates to "Allowing the Destruction of Life Unworthy of Life." The book argued that it was ethical to kill someone who was deemed 'unworthy of life.'
Horvath says, "In much the same way that the Germans came to rationalize mass murder at the hands of the state, calling into question the 'quality of life' a 'defective' person might have, and of course his burden on the state, Savulescu and other 'ethicists' today asks parents to consider whether or not a genetic trait 'clearly benefits an individual and society.' It's basically the same idea: 'Spare the person suffering by preventing him from existing in the first place--and oh, by the way, society will save money.'"
Elkins asks, "Life is precious. Life is fragile. It's the one thing we, as humans, hold tighter to than fame or fortune. It's the one thing we all have in common. But what if one group of people had the power to decide who could live and who would die? What if one group decided which lives were worthy and which ones were unworthy of life?"
Which raises an important question to consider today: if parents are the ones deciding which lives are worthy and which one's aren't, does that really make it fundamentally different?
The website for the forthcoming book is lifeunworthy.com. Derek Elkins is availble for interviews and can be reached through the publisher.