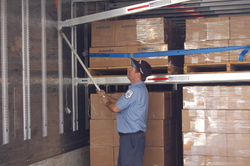 "Large fleets can potentially save millions of dollars by adopting this system."
Tampa, Fla. (PRWEB) February 7, 2011
During a press conference at the 2011 Technology & Maintenance Council (TMC) Annual Meeting today, Ancra International, the leader in load securement innovation, announced that its Lift-A-Deck II Load Maximizing System is generating an estimated 10 to 30 percent increase in load averages while reducing freight damage claim experience as much as 50 percent.
The company developed the estimates from proprietary studies and analysis of companies that have installed the Lift-A-Deck II Load Maximizing System, Ancra's patented, integrated, adjustable decking system that was developed by the company's Cargo Systems Division. The advanced system makes any standard trailer more productive by enabling it to carry 10 to 30 percent more cargo in a safer, more secure and more stable manner.
Ancra provides the Lift-A-Deck product both as a new equipment OEM installation and as a trailer up-fit or retrofit installation for existing trailing fleets. The system is applicable to all manner of trucking industry trailer models, including the typical 28-foot "pup" trailers used by national LTL carriers, as well as 45- and 48-foot city vans, and 53-foot trailers typically used in the long-haul truckload market.
As it completes current installation of Lift-A-Deck with several major carriers, Ancra expects to have more than 55,000 Lift-A-Deck systems on the road by 2013, making it North America's largest adjustable decking system supplier.
"We have designed the Lift-A-Deck II system to meet a variety of customer needs, from small regional motor carriers to the nation's largest LTL and Truckload fleets," said Ralph Abato, vice president of sales and marketing for Ancra. "This system delivers proven results in terms of improved equipment capacity utilization and dramatic reduction of freight damage claims. The superior, solid decking and shipment bracing features of Lift-A-Deck virtually eliminate cargo shifting and the consequent in-transit damage. Large fleets can potentially save millions of dollars by adopting this system."
"Ancra is the clear leader in adjustable decking and bracing systems," said Greg Lehmkuhl, executive vice president, operations for leading LTL carrier Con-way Freight, which markets the Ancra system as Con-way Freight "SafeStack" and is deploying it across its trailing fleet of 16,800 trailers. "This unique cargo management system enables LTL shipments to be handled more efficiently, travel more securely and gain increased protection against damage."
The No. 1 customer concern with LTL service is cargo damage, Lehmkuhl noted. "For our customers, better handling processes and advanced tools that prevent shipment damage and enable cargoes to travel securely and intact from pickup to delivery provide clear value differentiation," he said. "The Ancra system, combined with the experience and highly developed freight handling skills of our workforce, enables Con-way Freight to take performance to the next level and ensures our customers receive the best service in the market."
The Lift-A-Deck II Load Maximizing System features a high-strength design that is easy to configure and delivers exceptional performance, creating multiple decking platforms for palletized freight. The system starts with a solid foundation of narrow, low-profile, aluminum aircraft-style cargo tracks. The tracks' sloping shoulders reduce the chance of forklift damage and attach to the trailer's vertical structural posts every 16 or 24 inches, becoming an integral part of the sidewall structure.
Horizontal shoring beams clamp securely into the vertical tracks and the ends of the metal beams are each independently height-adjustable at one-inch increments. The system provides unparalleled adjustment flexibility, allowing loaders to accommodate freight pallets of varying shapes and sizes by precisely setting the right second-tier deck height. When not in use, the shoring beams can be retracted to the trailer ceiling, remaining out of the way but ready for rapid deployment during the next loading sequence.
Con-way's Lehmkuhl specifically commented on the physical and design advantages of the Lift-A-Deck II Load Maximizing System, including the stronger head assemblies and redundant safety lugs on its shoring beams. Lehmkuhl also noted that only the Ancra system is designed for use with integrated logistics straps that connect directly to the vertical tracks via one- or two-lug connecting options. The system's standard shoring beams have a working load limit of 2,200 pounds. Heavy-duty beams are also available and are rated for a working load limit of 3,000 pounds.
Con-way Freight's sister company, nationwide long-haul and regional full-truckload carrier Con-way Truckload, also has installed the Ancra Lift-A-Deck system in 100 of its 53-foot trailers, marketing the system to its customers as an enhanced capacity utilization benefit under the private label brand "DoubleStack."'
"The Lift-A-Deck II Load Maximizing System promotes and enhances the stability of cargo throughout the trailer and ensures optimum use of the trailer's innate capacity," Paul Wolford, Ancra's director of national accounts, said. "The system is adaptable for a wide variety of goods, including fragile products that need to be isolated or stabilized. The system easily accommodates freight items that otherwise cannot have other cargo stacked upon it, or pallets with products of varying dimensions and stability. "It can help greatly reduce a fleets exposure to cargo-related CSA infractions."
The Lift-A-Deck II Load Maximizing System can be ordered as an option from all major trailer OEMs, and retrofitting existing trailers is simple and convenient. Ancra has developed a nationwide network of certified, professional installers, capable of accommodating significant installation volumes.
A training video has also been produced, allowing fleets to bring their staffs up to speed on the new system quickly and effortlessly. One individual can easily operate the equipment and Ancra estimates that initial training can be accomplished in as little as 30 minutes.
View further information and images of The Lift-A-Deck II Load Maximizing System at http://www.ancra-llc.com/lad
View a YouTube demonstration of The Lift-A-Deck II Load Maximizing System at http://www.youtube.com/watch?v=DobgIDOFGVk
About Con-way
Con-way Inc. is a $4.3 billion freight transportation and logistics services company headquartered in San Mateo, Calif. A diversified transportation company, Con-way delivers industry-leading services through three primary operating companies: Con-way Freight, Con-way Truckload and Menlo Worldwide Logistics. These operating units provide high-performance, day-definite less-than-truckload and full truckload freight transportation, as well as logistics, warehousing, multimodal and supply chain management services, and trailer manufacturing. Con-way Inc. and its subsidiaries operate from more than 500 locations across North America and in 20 countries. For more information about Con-way, visit them on the Web at http://www.con-way.com/en/
About Ancra
Ancra International, headquartered in Hawthorne, Calif., is a world-class designer and manufacturer of restraint-related components and assemblies serving the commercial vehicle market and other industries. Its heritage as a product innovator is underscored by the fact that Ancra holds 71 domestic and foreign patents and 51 product trademarks. Each product is made from only the finest materials with attention given to every engineering detail. All component parts and materials are selected for performance and durability to offer customers the most cost-effective and reliable solutions for their needs. In 1996, Ancra was acquired by The Heico Companies. The Heico Companies have aggregate sales of more than $2.5 billion and an exceptional resource of professional services. For more information about Ancra, visit them on the Web at http://www.ancra.com
# # #