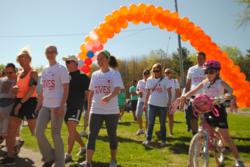 "The Jamestown MS Walk 2013 was a success in terms of weather, walkers and funds raised. The sun was shining and our teams were eager and ready to get out enjoy the day." Mary Gabalski
Jamestown, N.Y. (PRWEB) May 22, 2013
On May 5, Access Elevator and Lift was a local broadcast sponsor promoting the 2013 Walk MS in Jamestown, N.Y. Area walkers spent the morning touring the Allen Park & Southside Neighborhoods of Jamestown raising funds to provide research for MS.
"The Jamestown MS Walk 2013 was a success in terms of weather, walkers and funds raised. The sun was shining and our teams were eager and ready to get out enjoy the day. Several local businesses aided in sponsoring this year's walk with advertising and product for our picnic," said Mary Gabalski, the company's Walk MS 2013 Co-Coordinator. "We are pleased and grateful to all who helped make this an event to be remembered, including Access Elevator and Lift and their sister company, Fenton Mobility Products."
The Walk MS event aims to mobilize people and resources to drive research for a cure and to address the challenges of everyone affected by MS. Since 1988, the organization has raised more than $10 million to help support people living with MS.
Access Elevator and Lift provides access for individuals with many different ailments and disabilities. Their work involves making buildings ADA compliant and overall, making access to all buildings and levels available and easy for everyone.
Today's public buildings have many requirements to meet ADA standards. Access Elevator has years of experience helping commercial and residential customers equip their homes and facilities with all of the elements to make the space accessible for all people.
About the Company:
Access Elevator and Lift serves upstate New York and western Pennsylvania. Their residential division includes products from stair lifts to elevators in a variety of models which will ensure comfort and budget needs are met. Customers will find a diverse selection that includes only the highest quality equipment available to bring convenience and value to the home. Their commercial division includes products from stair lifts to LU/LA elevators manufactured and installed in accordance to ANSI A18.1 and ANSI A17.1 meeting the ADA requirements of today's public buildings. Churches, schools and professional buildings will benefit from these low cost solutions to their accessibility barriers. Visit their website at http://www.accesselevator.com for full specs on many of their elevator and lift products as well as other important information.