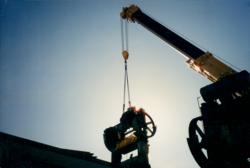 "These new benefits are especially helpful for trainers focused on boom lift training and scissor lift safety,"
Phoenix, AZ (PRWEB) March 05, 2012
CertifyMeOnline.Net, an online equipment training and lift certification website, has introduced new information and free resources for trainers in heavy equipment.
"These new benefits are especially helpful for trainers focused on boom lift training and scissor lift safety," says Tom Wilkerson, owner of CertifyMeOnline.net. "Our primary goal is to create safe work environments for operators of equipment. We pride ourselves on researching the latest safety requirements from OSHA and other regulating organizations. Once we secure the most updated knowledge, we create educational programs in a timely fashion so businesses remain safe and in compliance," says Wilkerson
The CertifyMeOnline.net programs are self-paced and offer opportunity to train employees whenever and wherever it is most effective for the employer and staff. The program typically will be utilized at the specific workplace, allowing trainers to highlight unique safety hazards and conditions of the business. In addition the program offers equipment-specific training for different makes and models of the heavy equipment being used. Employees are trained on the actual machines that they will be operating, learning from experienced trainers the nuances of the individual equipment.
When completed, the program provides all required proof of safety training that OSHA and GC require, including lift certification and compliance cards for employees. "In addition to the online training program, our staff is available via telephone to answer any questions our customers may have about these recent updates," says Wilkerson. The company offers forklift training, book lift training and scissor and aerial lift safety certification.
CertifyMeOnline.net was created in 1996 as a provider of workplace training programs. Initiated by professional rigger Tom Wilkerson, the company's goal is to provide simplified, efficient and cost-effective training programs for businesses. CertifyMeOnline.net programs are designed to offer comprehensive training by experienced, seasoned operators in the existing workplace, thereby creating a safer environment while avoiding unnecessary off-site training expenses and overtime fees. Since its inception, thousands of companies throughout the nation have utilized CertifyMe.net programs, including Fortune 500 companies and government agencies. For more information about the aerial lift & scissor lift training program, visit http://www.CertifyMeOnline.net.