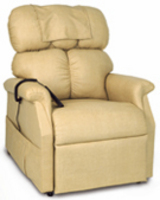 customer. We offer various lift chair options to match almost every weight and height requirements. This allows our customers to select the
Castle Rock, Colorado (PRWEB) August 28, 2008
Lift chair recliners are perfect for those who find sitting in a chair or standing up from a seated position difficult... and because of that Lift Chair Warehouse now exclusively markets only the Golden Technology lift chair line of lift chairs. Golden has a proven track record in comfort and reliability.
These recliner chairs are hi-tech, intelligently engineered, comfortable and stylish. Many of the models have a battery powered backup safety system and all come in various sizes, colors and designs.
Lift Chair Warehouse offers many models. Such as: the Value Priced Series (for the budget minded), 3 Position Recliners (great flexibility and mobility at a moderate price), Bariatric Recliners (built with a capacity of up to 500 pounds), Leather, Max Comfort Lift Chairs (the top of the line with infinite positions and many advanced features), and the Space Saver Series (ideal for limited spaces) lift chairs.
All models come with easy "TV Like" remote controls and SmartTek™ - a Patented Diagnostic System. The more advanced models come with "Zero Gravity Technology" and movable cushions like those at: Maxi-Comfort lift chair These fit your body like a glove and are manufactured using patented MaxiComfort™ technology to allow more positions and comfort. The "zero-gravity" technology (developed at NASA) helps in relieving back pressure and increased blood flow and circulation.
Ron Rougeaux, the president of Lift Chair Warehouse sums it up this way: "We want our customers to be happy with their order and will do everything in our power to make their purchase an enjoyable experience. Our goal is to have them as a "lifetime" customer. We offer various lift chair options to match almost every weight and height requirements. This allows our customers to select the "right movable body cushion" just for them! We are confident about our products and offer a guarantee on all products along with a lowest price guarantee. The fact that more and more customers are buying lift chairs to improve their quality of their life proves the value of these fantastic mobility devices. Not only do they give mobility to the disabled, retired, and senior citizens... these lift chairs are also elegantly designed to look beautiful and stylish in your home."
About Lift Chair Warehouse
Lift Chair Warehouse (a division of AssistiveLivingMobility.com) is an online store exclusively providing Golden Technologies lift chairs. They are a member of the Denver Online Better Business Bureau with a top BBB rating. They offer a complete range of lift chairs for customers who are experiencing difficulty in getting up, sitting down and other general mobility problems. The site also offers Gift Certificates to allow you to give "the perfect gift" to friends, family, and business associates.
For more information, please visit: http://www.LiftChairWarehouse.com
Email: Info(at)LiftChairWarehouse.com
Phone: 1-800-670-4306 or 1-303-660-2605
Fax: 1-888-235-6944
###