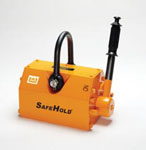 Lifting Magnets Make Lifting Simple And Safe
Boston,MA (PRWEB) May 11, 2012
Get a lift from lifting magnets. A Plus Warehouse is now a distributor for Eriez Lifting Magnets. Lifting magnets are excellent to use in hoist applications for lifting flat polished carbon steel. A Plus Warehouse provides quality hoists and under the hook devices such as slings, and spreader beams. The addition of lifting magnets rounds out the offering. A Plus Warehouse now offers lifting magnets to bring safety and efficiency to customers nationwide.
Consider a typical lifting task. The first step is to position the load in some way that slings can be placed around it. Next a trial lift needs to be done – to make sure the slings are properly positioned. Finally, the load is moved and the slings can be taken off for the next job. There is a stark comparison when looking at the same task with a hands free lifting magnet. Simply position the lifting magnet over the load, lower it onto the load, then pick up. Picking up the magnet deploys the field automatically! If the load is not being lifted properly, just lower and try again. When the hoist is lowered, the switch shuts down the magnet!
According to Ed Stairman, "Lifting Magnets make lifting simple and safe. Customers will love the ERIEZ line" Of course lifting magnets are great for their intended application. A customer that doesn't understand basic metallurgy may want to lift lumber stock with a lifting magnet. For customers lifting flat polished carbon steel , lifting magnets work fine.
A Plus Warehouse always suggests customers first pay attention to safety in materials handling. As with many other thing , the US Government has regulations on corporate behavior relative to lifting. For customers that are interested, ASME Standard B30.20 reviews safe lifting operations. Is there any surprise that workers are restricted from standing under live loads by regulation? Instinctively , workers know not to stand under live loads. The lifting safety standards are less expensive than sleeping pills and have fewer side effects!
To support the new line of lifting magnets , A Plus Warehouse will be offering a 5% discount on any hoist purchased with a lifting magnet through July 2012. Simply inform the sales rep to get a lift from lifting magnets, and the discount will be applied to the hoist being purchased.
A few words on A Plus Warehouse: Operating http://www.apluswhs.com since 1996 , A Plus Warehouse is a well established online distributor that offers quality materials handling equipment including lifting magnets.