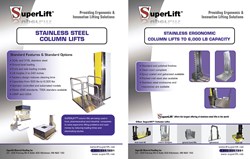 Superlift offers the most complete stainless steel lift product line in the world
Kitchener, Ontario (PRWEB) November 29, 2012
Superlift Material Handling Inc is a provider of standard and custom lifting devices for food and pharmaceutical companies throughout North America. Superlift has recently has expanded it's column lift product line to include products from a 500 lb capacity to a 6000 lb capacity to 240 inches of lift height.
Column lifts are available in 304 and 316 stainless steel in a 2B finish to a Electro polished finish. Optional sanitation packages are available to mount the column above the floor so that the sanitation teams can clean around the lift quickly and easily. Superlift has built these lift with a low height of 12 inches and can supply up to 240 inches of lifting height to a mezzanine
Available in hydraulic, electric screw drive and electric chain drive, Superlift offers custom solutions to fit each clients specific requirements. Product only and product plus personal lifts are available with all of the safety built in to meet local safety requirements. Contact Superlift for more information on these and many other special lifts that Superlift manufacturers in stainless steel.