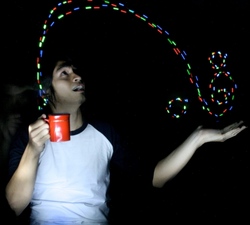 We come from a variety of influences, from punk to progressive rock
Philippines (PRWEB) October 22, 2009
Upbeat, energetic music plus dazzling light spectacles equals a TV commercial with a music video feel. A fusion of fun and photography magic dazzles viewers and sets them dancing to the beat: up-and-coming band Not Applicable appears in the new NESCAFÉ 3in1 commercial with a group of 'light writers' (light writers are artists who create artistic, amazing light effects using a camera and light sources).
Not Applicable is composed of Jake Bocanegra, Bruce Lopez, and Jami Lava. In the commercial, the band members encounter light writers Joie Calixto, Kyle Amor, Jennifer Cederstam and Jay Gallegos. As they meet, their combined artistry forms an exciting blend of music and magic.
Fresh sound
Members of Not Applicable met during their high school years. They chose the band's name after they realized that their music did not fit into any specific genre.
"We come from a variety of influences, from punk to progressive rock," shares vocalist Jake.
The band members come from different educational backgrounds-Jake is in business management; Jami is in Computer Engineering; and Bruce is taking up finance, all at De La Salle University.
Even if they have been a band for quite some time now, they continuously experiment on different sounds-trying to avoid being boxed into a particular musical style. Like all impassioned music artists, they want to create music that's interesting and fresh.
Not Applicable now plays in different music venues around the metro such as Magnet in Bonifacio High Street, Al's Bar and 19 East in the south and Saguijo and Gweillos in Makati. They continue to accept gigs when the time allows them.
From out of darkness: Art
It can be puzzling to watch the light writers practice their craft: all you see is someone 'writing' on thin air while a camera is trained on them.
But like sorcerers in the dark, the light writers wave their wands in the air, drawing shapes, figures, words, and anything that their imaginations can conjure up. It's only when the shutter closes and pictures are printed-or posted digitally--that their seemingly magical creations are revealed to the viewer.
Light writing, sometimes called light painting or drawing, is a photographic technique where shots of a moving light source or sources are taken in a low-light environment. Simply put, it's like turning the surrounding darkness into one huge canvass, using light as ink or paint. The principle and practice of light writing has been there for a long time but its popularity among the young has grown only recently.
To be able to capture the images, the camera is set to a long exposure value, a wider aperture is set accordingly, and the shutter is pressed. It is in the several seconds between the opening and closing of the shutter that the light writers will do their magic using whatever light sources they have on hand.
Georgia, better known as Joei among her friends, is a fresh graduate of Multimedia Arts from the College of Saint Benilde (CSB). The former cheerleader has plenty of experience in video editing, designed lay-outs and artworks.
"Light writing is very exciting because you never know what to expect. Even the man behind the camera won't know how it would look like until the shutter clicks again," she says.
Kyle and Jennifer were introduced to light writing in their respective Photography classes.
Kyle studied light writing at the Glendale Community College in Arizona. "I'm very interested in design patterns, textures, and colors, and light writing is another form of creating those. But light writing presents a different challenge because you can't immediately see what you're doing. It's more of trial and error," Kyle says.
While studying at the Philippine School of Interior Design, Jennifer took up a minor subject in photography (in a different school).
Light writer Jay comes from a more technical background, graduating from an Industrial Engineering course at the De La Salle University. Jay says light is one of his creative outlets.
"I find light writing is pretty cool. Every time I hear about it, I'm reminded of those light sabers in the Star Wars movies," Jay shares.
Producing the NESCAFE 3-in-1 commercial gave them a valuable opportunity to connect and work with other light writers, as well as the musicians of Not Applicable-to create art that's both upbeat and visually exciting.
Bruce of Not Applicable says, "It's very cool and interesting that music and light writing were put together by NESCAFÉ 3in1. It doesn't happen often but I think the combination is perfect. Mixing music with visuals can produce exciting and fun results."
NESCAFÉ 3in1 creates the perfect mix among people with diverse interests--helping turn new acquaintances into friendships and giving freshness and pep between old buddies. Being with friends is simply more fun and exciting when you have the perfect mix.
###