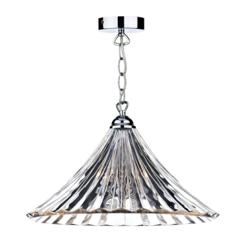 Consumers like to have a clear vision for their home.
(PRWEB UK) 25 April 2013
In recent months the domestic lighting industry has been seen some exciting new developments in technology, further progress on sustainability and even celebrity designer lighting ranges. Specifically, Lighting News (http://www.lighting.co.uk/) has reported on new technology from Philips that claims to deliver the most energy efficient lighting to date, Environment Agency data showing huge increases in recycling rates for lighting and even some very expensive chandeliers endorsed by Vanilla Ice!
Exciting though this all is, Robert Heritage, Marketing Manager at Superior Lighting, realises that most UK consumers are worried about other matters. What's more for business, commercial and industrial customers there are other potential changes afoot that will affect their choices of light fittings.
"Consumers like to have a clear vision for their home. They may see a designer kitchen complete with flush ceiling lights or a shower room with the latest bathroom ceiling lights on a DIY show and that's what they have to have! Issues such as recycling, new technology and celebrity are much less important to them than achieving the look they want within their budget.
"But for non-domestic light installations there are inevitably additional regulations that must be adhered to. That's why we are keeping an eye on potential changes to Part L of the UK Building Regulations that will published in June."
Part L of the Building Regulations covers the conservation of fuel and power. When confirmed the new regulations will give non-commercial lighting users and lighting planners much more flexibility. Robert explains:
"Current legislation limits power consumption to specified amounts of power per square metre. The Lighting Energy Numeric Indicator (LENI) allows for more intelligent, diverse and flexible design of lighting schemes to incorporate power management and use of other light sources, such as daylight.
"The lighting industry has been working on this for a number of years and we aim to help our business customers understand how the new regulations might affect their planning and buying choices."
Robert and the team at Superior Lighting offer free advice on choosing the right light fittings for your home or business and can offer a wide range of options to suit every need.
About Superior Lighting:
With over 30 years experience in the lighting trade, Superior Lighting has an in-depth knowledge of a huge range of products and can offer specialist advice on a broad spectrum of lighting problems. Superior Lighting works with both domestic and commercial customers of all sizes. We aim to make the name of Superior Lighting synonymous with quality, personal service, style and choice.