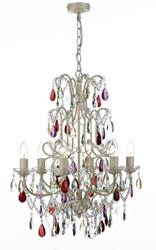 Function has to be the top priority.
Ashford, Kent, UK (PRWEB UK) 10 October 2012
In the dim and distant past buying bulbs for domestic light fittings seemed so simple. Consumer choices were largely limited to wattage, dependant on the brightness needed. Although there has always been a wide range of lighting options available, these were mainly for decoration and mood lighting. Nowadays legislation, technology and the green-agenda conspire to make choosing everyday lighting a bewildering challenge.
Marketing Manager Robert Heritage believes the product and lighting technology choices promoted by major retailers, are being misinterpreted as government policy or legislation by the general public. So what do consumers really need to consider when choosing light fittings and bulbs for the home?
"Function has to be the top priority. If the bulbs we choose don't deliver the right amount or quality of light for our needs, then our daily lives can be seriously affected," says Robert. "Consumers still love the old-style incandescent bulbs and have been misled by some major retailers that they are no longer available. In fact, they are the most popular items on our website."
Low-energy Compact Fluorescent Lights do offer significant cost savings but the quality of the light just doesn't suit many people's needs. That means, for example, they are not always ideal for kitchen lights, which need to be bright and immediate. Many people turn to halogen bulbs which look smart and are not as efficient. Given the kitchen is one of the most used parts of the modern home, it is easy to see how energy savings gained elsewhere can be negated in just this one room.
Robert added "The age of your home can affect your lighting choices too. Those living in new-build or recently renovated properties must use lighting that complies with current legislation. The modern trend for lower ceilings makes flush ceiling lights a popular choice. Plus it seems every new bathroom needs to be illuminated with the latest designer bathroom ceiling lights."
Modern LED lights offer a wide range of colours to help set the mood of every room in your home. They are highly efficient, deliver great light and even come packaged as direct replacements for your old incandescent light bulbs. The problem with LEDs is (for now at least) the high cost - with bulbs costing upwards of £30 each.
With so much confusion in the lighting marketplace, Superior Lighting is aiming to help consumers by providing advice along with a wide range of light bulbs and fittings on their website. "Our aim is to help you make the right decisions that meet your needs, your budget and still help you play your part in keeping as energy efficient as possible," said Robert.
So what are the smart lighting choices for consumers? "Mix it up and be flexible," concluded Robert. "Every room in your home has a different function, so use different styles of light to set the right mood and create the perfect environment at the right cost!"