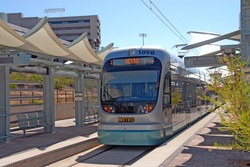 TEMPE, Ariz. (PRWEB) December 18, 2008
The Valley METRO Light Rail system will serve 26,000 daily passengers from Mesa, through Tempe and into Phoenix when it opens on Dec. 27. The $1.4 billion rail system includes 28 stations, nine parking locations, a maintenance facility and many trains.
Tempe is the only Arizona city to have a light rail system that runs from one city border to the other. These stations serve some of Tempe's most visited locations, including Arizona State University, Sun Devil Stadium, the Mill Avenue District and Tempe Town Lake. The trains stop in front of some of Tempe's largest business parks.
An award-winning bridge across Tempe Town Lake puts on a colorful light show each time a light rail train crosses. A LEED Gold certified maintenance facility and new Transportation Center pending LEED certification provide a seamless transition from rail to bus or bike.
The new light rail line is part of Tempe's integrated transportation system connecting rail, buses and bicycles. Downtown Tempe is minutes from Sky Harbor International Airport and Tempe is surrounded by freeways, creating a synergy of travel choices.
Even though it hasn't opened yet, light rail has already had a substantial impact on Tempe. At least 10 new residential and commercial developments have sprouted up along the new transportation corridor, ranging from college student housing to single family homes, from retail centers to Class A, LEED certified biotech and office buildings.
The light rail system will save money for users while also reducing road congestion and pollution. It is a focus of Tempe's commitment to sustainability.
The City of Tempe, with Phoenix and Mesa, will celebrate the opening of light rail with parties along the entire line. At Tempe's Main Stage, Roger Clyne & the Peacemakers will perform. Exhibits featuring the construction of the line and the archaeology completed will be on hand. A kids' area, development showcase and green expo will round out the event. Details and online newsroom: http://www.destinationtempe.com
This is also the week of the Insight Bowl and Fiesta/Insight Bowl Block Party, featuring the Kansas Jayhawks and the Minnesota Golden Gophers.
Traditionally, weather for the week is a sunny 68 degrees.
About City of Tempe:
Tempe, Arizona is a community of 165,000 residents. Home to Arizona State University and the state's highest per capita rate of technology companies, Tempe is an innovative, forward thinking community. Tempe employs 175,000 and draws 4 million tourists annually. Approximately $2 billion in new development is under way, much of it along the light rail line. Destination Tempe highlights the city's beliefs in innovation, fun and environmental responsibility.
MULTIMEDIA GALLERY http://www.businesswire.com/cgi-bin/mmg.cgi?eid=5856677