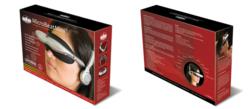 Our team worked tirelessly developing the mBm with the aim of producing the best Light and Sound Mind Machine that would suit beginners as well as professionals and be flexible enough to allow for an infinite amount of input content via new technologies
Los Angeles,CA (PRWEB) October 16, 2012
Reynold Laferla And Jason Chan Win Two Awards For mBm MicroBeatMini Audiostrobe Mind Machine At 2012 Light and Sound Mind Machine Awards. Reynold Laferla and Jason Chan, Co-Designers of the MicroBeatMini Audiostrobe Mind Machine accepted dual awards in 2012 Light and Sound Mind Machine Awards. The MicroBeatMini won in two categories in the 2012 awards, "Most Innovative Use of Brainwave Entrainment Technology" and "Best New Mind Machine".
"The mBm MicroBeatMini Audiostrobe Mind Machine is innovative in its all in one visor design. It is compact and easy to use. By utilizing the audiostrobe platform it is compatible with a growing variety of audiostrobe encoded sessions. Its introduction to the US market in 2012 drove it to be the winner or Best New Mind Machine of the year," says Fred Williams, host of the 2012 Light and Sound Mind Machine Awards.
"We are delighted at receiving two 2012 Light and Sound Machine Awards for our MicroBeatMini. Our team worked tirelessly developing the mBm with the aim of producing the best Light and Sound Mind Machine that would suit beginners as well as professionals and be flexible enough to allow for an infinite amount of input content via new technologies such as smart phones, tablets and apps. During mid 2008 we secured the exclusive right to include the patented AudioStrobe decoding technology from Verim and began developing various prototypes our an all-in-one light and sound mind machine that became the MicroBeatMini. Over the next 3 years, our engineers worked closely with Verim to optimise the mBm AudioStrobe decoding circuitry to ensure our MicroBeatMini would deliver users an extraordinary experience never seen before in any other mind machine. Our team will continue to develop and partner with well accredited content providers and professionals to deliver an ever expanding professionally encoded high quality audio library and apps for the mBm," said Reynold Laferla & Jason Chan, Co-Designers of mBm and Co-founders of Innovex Pty Ltd.
The Annual Light and Sound Machine Awards recognize the best in the industry of light and sound technology and highlight the most innovative and effective products and manufacturers. The 2012 Light And Sound Mind Machine Awards were hosted by Fred Williams in Los Angeles and sponsored by the AVS Journal, the first and only publication dedicated to light and sound machine technology. The AVS Journal is owned by Michael Landgraf, author of Mind States – An Introduction to Light and Sound Technology.
For more information about the 2012 Light & Sound Mind Machine Awards and the MicroBeatMini Audiostrobe mind machine please visit mindmachines.com.