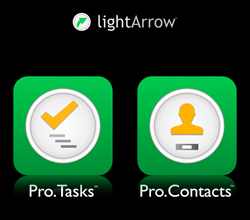 We are targeting two fast growing categories, productivity and business, and also adjacent markets for personal organization. - Adi Mishra, CEO
Austin, Texas (PRWEB) August 15, 2013
LightArrow, Inc. creators of the popular Life­Topix™ app for iOS, announced today its next new business apps, Pro.Contacts™ and Pro.Tasks™. Built on the proven LightArrow App Engine, these new business apps are designed to empower small businesses and mobile users with the ability to manage interactions and data for customers and other contacts, and to provide powerful project and task management. Both apps run on iOS devices without requiring new online accounts. Both apps are scheduled for general availability via the Apple App Store in the Business category during September 2013 and October 2013, respectively.
Pro.Contacts will enable business users and individuals to strategically manage their interactions with prospects, clients and other contacts. Salespersons, business owners, individuals, students and others will find this app useful for consistent and strategic communications with their prospects, clients and other contacts. Pro.Contacts aggregates important contact data into one place, which allows users to have intelligent and thoughtful conversations with their contacts by providing all important information about their contacts at their fingertips. With Pro.Contacts, users can schedule tasks and reminders related to their contacts; categorize their contacts; capture meeting notes; call, message, and email; and view their contacts' social media interactions and web results. Pro.Contacts leverages the data in their iOS contacts and calendar apps, eliminating the need to enter information twice.
Pro.Tasks takes mobile project and task management to the next level by building on existing task and project management features in the LightArrow App Engine 7, which is currently utilized by LifeTopix, My.Agenda, Pro.Notes and other LightArrow apps. The Pro.Tasks app focuses on project and task management, but also builds on the robust project management features in LifeTopix and other LightArrow apps by adding task hierarchy, improved grouping and filtering, improved sharing and collaboration within teams, and import/export and print. Usability enhancements include drag to reorder, color coding and expanded information in task list views. Custom task templates will make it easy to get up and running quickly with task lists for standard projects.
"We are truly excited about our quickly expanding portfolio of apps, especially in the Business category," said Adi Mishra, CEO at LightArrow Inc. "We are in a unique position where we have over three years of expertise in a significant set of technologies and extensive user feedback, and are able to cater our apps to what our users want. We are targeting two fast growing categories, productivity and business, and also adjacent markets for personal organization."
Utilizing the LightArrow App Engine 7, the company is able to release a line of apps for both personal organization and business. With over three years of development and constant improvements with feedback from users, the engine provides a common set of functionality across all the apps, namely:

Device iOS apps integration with calendars, contacts, reminders, location and media capture
Automated sync support for app data and files across devices
Sharing and collaboration via email, Twitter, SMS and Facebook
Export and print support
Unified settings management
Unified help service
Standard dashboard views
A common relational data model that unifies productivity data
A shared in-app purchase engine for selective and modular enhancements
Integrations with popular online services, such as Dropbox, Google Drive, Microsoft SkyDrive, Evernote, Toodledo and others.
Pricing and Availability
Pro.Contacts will be available for an introductory price of US $2.99 from the Apple App Store in September 2013. Pro.Tasks will be available for an introductory price of US $2.99 from the Apple App Store in October 2013. LifeTopix and My.Agenda will also provide access to the new features added to Pro.Contacts and Pro.Tasks through in-app purchases. As uni­ver­sal apps, a sin­gle pur­chase enti­tles buyers to use the apps on their iPhone, iPad and iPod touch.
About LightArrow
Headquartered in Austin, Texas, LightAr­row, Inc. (http://www.lightarrow.com) was founded in 2010 by a team of visionaries and repeat entrepreneurs who have dedicated their professional careers to the challenge of leveraging state-of-the-art information technology to solve problems that matter to people. Their mission is to build intelligent, world-class software products that dramatically improve their customers' everyday lives. The company has extensive experience delivering quality solutions to some of the most sophisticated customers in the world and are very proud of their successful track record.
Copyright © 2013 LightArrow, Inc. All Rights Reserved. Apple, the Apple logo, iPhone, iPod and iPad are registered trademarks of Apple Inc. in the U.S. and/or other countries. SkyDrive is a registered trademark of Microsoft Corporation. Dropbox is a registered trademark of Dropbox, Inc. Google Drive is a registered trademark of Google, Inc. Evernote is a registered trademark of the Evernote Corporation. Toodledo is a registered trademark of Toodledo. All other trademarks are the property of their respective owners.