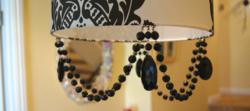 "Light Charms give home decorators the freedom to add instant bling to their lighting fixtures!"
Carlsbad, CA (PRWEB) April 19, 2012
With their patented magnetic tip, Light Charms provide a simple yet elegant way of changing the look of a fixture without actually having to purchase an entirely new fixture. Tiny yet strong magnets affixed to the tip of Light Charms allow these embellishments to be instantly attached to home accents such as chandeliers, lamps, candle holders, wall sconces and more. Pre- drilled holes or wires are not necessary. "Light Charms were created to give the home decorators the freedom to add instant "bling" to their fixtures," said Cynthia Nielson, co-founder of Magnificent Trimmings Inc. "Decorators now have the ability to update the look of an outdated lighting fixture without having to discard their fixture." It is a win-win for the decorator and the environment!"
Light Charms are available in an impressive array of 30% leaded crystals and glass designs. In addition to crystal and glass designs, Light Charms are also available in a wide variety of seasonal styles. From summer-themed starfish to holiday themed snowflakes, Light Charms are the perfect answer for seasonal and holiday decorating. Seasonal and crystal styles are available in gift boxed sets of 3 or 6.
All Light Charms collections can be viewed online at http://www.lightcharm.com. The frequently updated web site features a gallery of design ideas submitted by both consumers and lighting designers.
About the Company:
Magnificent Trimmings Inc. was founded in 2006 by Cynthia Nielson and her mother, Colleen Nielson. Colleen Nielson is the inventor of the product and holds various patents for products that adhere magnetically from fixtures.