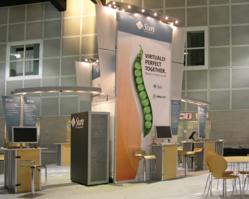 The SL-3000, a light unlike any other LED stem lights.
Freemont, Ohio (PRWEB) February 19, 2012
Light Craft Manufacturing will attend the Exhibitor Show 2012 in Las Vegas to release new products specifically designed for tradeshows and exhibits. Light Craft will be featured in the New Product Showcase (NPS) at the entrance hall of the trade show.
The Exhibitor Show is for trade show and corporate event marketers. The five-day event features 220 seminars and workshops with the industry's largest exhibit hall, which includes about 300 exhibitors. The trade show is geared towards helping exhibitors find the latest products and resources.
"Basically Exhibitor is a trade show for the trade show industry," said Brandon Wright, the director of sales and marketing at Light Craft Manufacturing. "We're really excited to be a part of Exhibitor Show this year to show others in our industry what we have to offer, especially the new SL-3000 LED stem light."
The SL-3000, a light unlike any other LED stem lights. This product is used as display lighting at museums, trade shows, galleries and retail settings that use stem lights. The product features a ribbed design and ventilation fins that increase the surface area of the light and reduce the amount of heat that is generated. The SL- 3000 operates from a solid base and therefore can perform at optimal levels maximizing color consistency, brightness, and life span.
The Exhibitor Show will be at the Mandalay Bay Convention Center in Las Vegas, NV on March 5th-7th and exhibitioners and buyers can find LED lamps, LED stem lights and recessed lights at Light Craft's booth #1250.
About Light Craft:
Light Craft Manufacturing, Inc. is a family owned and operated business that has been dedicated to providing the tradeshow and exhibit industry with quality, reliable lighting since 1987. Light Craft offers a wide selection of stock lighting solutions that include stem lighting, back lighting, track lighting, and recessed lighting. Light Craft also carries LED solutions to help customers become environmentally friendly exhibitors. Along with stock solutions, Light Craft continues to pride itself on custom capabilities that will provide the perfect lighting solution for any unique exhibit design. As a company, they are able to provide all of these solutions at highly competitive pricing and the fastest turnaround time in the industry, as many orders ship the same day they are received. Light Craft's commitment to building trustworthy and outstanding customer service relationships is second to none in the industry. For more information, please visit http://www.lightcraftmfg.com or call (800)772-3152.
###