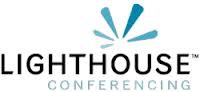 ON24 had long been considered the 'gold standard' and industry leader in webcasting solutions. Their global content delivery network (CDN) ensures flawless webcasting events worldwide
Superior, CO (PRWEB) June 12, 2013
Lighthouse Conferencing, a leading provider of online conferencing and webcasting solutions, announced today its partnership with ON24, the global leader in webcasting and virtual environments, in order to add virtual event solutions to the Lighthouse Conferencing service offerings.
Virtual trade shows are taking the place of traditional trade shows, allowing companies to save money, increase reach and engagement, and improve their online lead generation results. With virtual communications solutions, the event can extend beyond the time limitations of a traditional trade show. By making content available on demand, the virtual trade show continues to reach potential customers.
"We're seeing tremendous need for webcasting and virtual trade shows from HR and Marketing professionals. There is an ever-increasing strain on these employees and our solutions are helping them do their jobs better, quicker, and under budget. ON24 had long been considered the 'gold standard' and industry leader in webcasting solutions. Their global content delivery network (CDN) ensures flawless webcasting events worldwide," notes Marc Gutman, Founder & CEO at Lighthouse Conferencing. He continues, "ON24 is committed to an indirect channel partner distribution strategy. Their platform combined with our service is like chocolate and peanut butter. It's the perfect combination, and the benefits will be felt by our customers."
Committed to only partnering with best-in-breed service providers such as ON24 enables Lighthouse Conferencing to provide the best user experience possible to its customers. Additional information about Lighthouse Conferencing's webcasting solutions is available at: http://www.lighthouseconferencing.com/services/event-conferencing
About ON24, Inc. (http://www.on24.com)
ON24, the virtual communications platform for the global enterprise, provides interactive, impactful cloud-based solutions that drive outstanding results. ON24 offers a broad and innovative product portfolio, including webcasting, virtual events and virtual environments, accessible from any device and supported by robust reporting and analytics. Applications for the ON24 platform include demand generation, partner enablement, virtual talent development, product launches, company town hall meetings and user conferences.
About Lighthouse Conferencing (http://www.lighthouseconferencing.com)
Lighthouse Conferencing provides customers with innovative communications solutions, such as webcasting and virtual environments, which get the conversation started. Lighthouse focuses on helping HR professionals with virtual recruiting, training, and open enrollment and Marketing professionals drive an increase in their online lead generation programs. From Fortune 500 companies to small & medium sized businesses, Lighthouse Conferencing helps convert your conversation goals/concepts into real business drivers with our proven process of research, planning, and execution.
For more information, please contact us at +1 877.234.3433 or sales(at)lighthouseconferencing(dot)com.