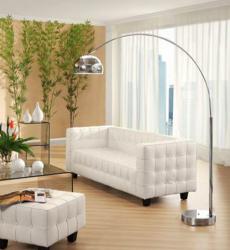 Some modern floor lamps take the floor lamp's bulb out of the corner and put it front and center in the living room.
(PRWEB) January 16, 2013
HomeThangs.com – the Home Improvement Super Store has made their goal to deliver the right product to the consumer. With that in mind, shopping and home design tips, as well as special product selections are being introduced.
Any real estate agent or contractor will confirm: if one can manage to sneak built-in lighting into any room in a home, one should. Being able to flip a switch and get all-over, over-head lighting gives any space an immediate visual appeal that can easily translate into a fast sale or even a slightly higher value on the home. But installing permanent lighting fixtures isn't always practical or even possible, and many floor lamps don't give the kind of illumination one might hope for. That's why HomeThangs.com introduced a few modern floor lamps that aim to address both problems with one swift solution: tall, arched, swing-style fixtures that offer overhead illumination with a plug-in style lamp.
1. What's wrong with Floor Lamps
Traditional floor lamps have a single straight post and are more or less person-sized. This makes them just the right size and shape to fit in a corner or comfortably next to a sofa or arm chair, providing plenty of illumination for reading or, with a brighter bulb, they can light up most of a room. But even with a swing-arm (which mostly just improves reading light) or multiple bulbs, a floor lamp can't provide the same over-all lighting a ceiling mounted lighting fixture could. But some modern floor lamps, like Galactic Lamp from Zuo, for example, take the floor lamp's bulb out of the corner and put it front and center in the living room.
2. How Tall Floor Lamps Fix the Problem
A floor lamp that has a very long, adjustable arm, like, for example Alpha Lamp from Zuo, actually dangles the lamp over the center of the room. This isn't quite the same thing as having a ceiling mounted fixture, but it's the best way to simply and inexpensively centralize lighting while keeping the light switch control and without having power cords running all over the floor. With a long enough arm, one can position the lamp's base just about anywhere along the edge of the room and still end up with the actual light hitting pretty near center.
3. The Right Setting
At a glance, one might be worried about having a big metal arm hanging out in the middle of the room. Depending on the layout, this might be a pretty legit consideration to take into account. But most long-necked floor lamps, like the Crane Lamp from Nuevo for example, are designed to be adjustable in the height and angle of the main part of the lamp, as well as the height of the lamp shade, so one can adjust the arch to fit the space. With just a little fiddling, one can easily make these floor lamps tall enough to walk under, they can be placed across the sofa so to have even more head room.
4. Visibility
While, it's great to have a light over the coffee table, it is not so great to have a light in the face while watching TV. But with many that isn't really an issue at all. Floor lamps like, for example Spectral Lamp by Zuo are specifically designed to hang above head level while sitting on a sofa, and are easy to adjust to make sure one won't notice them at all while on the sofa.
5. More Stylish Than A Swing Arm
One of the best things about these tall, arched modern floor lamps is that one can not only adjust the height, length, and angle of the light, one can also adjust the direction. Like a more conventional swing arm lamp, these floor lamps are great for spaces where one might need a little extra targeted light from time to time, like a reading chair, game table, or even an office desk. But unlike swing arm lamps which have a very limited range, modern floor lamps like, for example, Penbrook Lamp from Dimond allow to get the light exactly where needed.
6. How Powerful Are They Are
It depends on the lamp, but speaking generally this type of lamp uses one bulb up to 100 watts, compared to an average flush mount fixture which uses either one or two 60 watt bulbs, so approximately equivalent. In order to really maximize light levels, it is better to look for a fixture that uses more bulbs, like the Cosmic Lamp by Zuo for example. The wattage per bulb will be lower, but the lights themselves tend to be brighter overall. Also, it pays to pay a little extra attention to the bulbs. Various incandescent, compact florescent and LED lights all produce a different quality and amount of light that's reflected more in their listed Lumens and light color.
7. Make a Statement While Getting the Light Needed
In addition to providing the overhead light one could otherwise only get with complicated electrical work, very tall floor lamps also add a sleek, modern presence to the living space. The simple metal curve of the arched lamp neck is pure modern sophistication, and opting for a showier lamp shade, like the one on the Plasma Lamp by Zuo for example, can turn a simple lighting fixture into a stunning show piece. This type of design is nothing if not unique, so if looking for an innovative combination of lighting and design without any installation, one of these modern floor lamps is definitely the way to go.
HomeThangs.com is not only a home improvement superstore, it also provides expert design tips and a comprehensive shopping guide, taking the ideas from professional interior designers, and offering tips to the consumers on how to pick the products to best suit their needs.