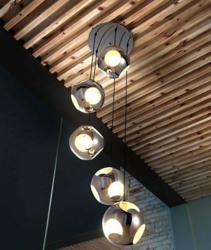 Spiral pendants can have as many as a dozen lights down to as few as three, depending on how grand the style and how large the space.
(PRWEB) June 08, 2013
HomeThangs.com – the Online Home Improvement Store has made their goal to deliver the right product to the consumer. With that in mind, shopping and home design tips, as well as special product selections are being introduced.
Perhaps the biggest difference between traditional and modern lighting fixtures is innovation. Lovely as they may be, and often grand and stunning as they are, there isn't a whole lot of variety in traditional lighting fixtures in terms of shape, style, form, or material. But with modern lighting, the sky is really the limit – modern designers embrace any and every type of light, no matter how unusual the design, and use them to turn a utilitarian light socket into a stunning, artistic focal point. Spiral pendants are one great example of this, with their sinuous lines and a totally unique shape. HomeThangs.com has introduced a guide to these eye catching fixtures.
Traditional lighting fixtures are overwhelmingly uniform, if not outright symmetrical. Classic crystal chandeliers are designed with tiered, radial arms, while even most pendant lights are pointedly made to match, with lights hung at the same height an equal distance apart from one another. Spiral pendants shirk all this convention, varying the height of each light and the spacing between them to form a descending spiral of lights.
Spiral pendants can have as many as a dozen lights down to as few as three, depending on how grand the style and how large the space. Ones with dozens of glass globes catch the light and are reminiscent of more traditional spiral chandeliers, while simple three-light spiral pendants simply offer a fresh, slightly asymmetrical twist on the conventional three-light pendant.
How tall a spiral pendant is depends on how many lights it has – a 3-light spiral pendant will be much smaller than one with 6 or 8. Even so, the height varies between fixtures with the same number of lights as well; while 3-light fixtures tend to hover around a foot tall, larger fixtures can range anywhere from four to eight feet high, depending on the distance between each light and the distance from the highest light to the ceiling.
This modern design is more prevalent in urban spaces than rural ones, primarily because urban spaces tend to be on the smaller side. A grand, five tier entryway chandelier might look lovely in the foyer of an old Victorian home, but might very well not even fit in an upscale urban loft. For those with decently high ceilings but not an unlimited amount of floor space, spiral pendants are an excellent alternative to a more traditional chandelier, as they're very tall, but also typically compact in width.
Even without high ceilings, spiral pendants can still make a lovely statement piece – they just need to be positioned a little more carefully. With a lower ceiling, spiral pendants should be placed over a table such as a dining table, coffee table, or game table. This allows the lowest light to hang just above the center of the table, so the lights seem to cascade down onto it, but well out of the way of anyone sitting or walking past.
While most spiral pendants are strung up on thin, transparent threads, a small subset of them are built with much smaller lights fixed to much larger, thicker spokes. Rather than the sinuous, gravity-free appearance of other spiral pendants, these have a heftier, more masculine appearance, reminiscent of a basket weave or wheel. Like pulley lights, these are better for a slightly industrial style rather than a posh and polished urban chic.
To see more of these stylish lights, read the full article here, or check out some of the fixtures from Zuo, Nuevo Living, or Eglo.
HomeThangs.com is not only a home improvement superstore, it also provides expert design tips and a comprehensive shopping guide, taking the ideas from professional interior designers, and offering tips to the consumers on how to pick the products to best suit their needs.