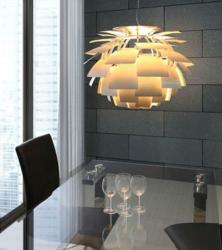 White lighting fixtures glow beautifully when lit from the inside, while areas that aren't lit directly do an excellent job of picking up shadows.
(PRWEB) June 04, 2013
HomeThangs.com – the Online Home Improvement Store has made their goal to deliver the right product to the consumer. With that in mind, shopping and home design tips, as well as special product selections are being introduced.
Students of sculpture are commonly required to paint their projects flat white for the simple reason that this ordinary-seeming color shows off every detail and every flaw in full relief. In flat white, small details are impossible to miss and mistakes are impossible to hide. Something done well in white is a true mark of artistic skill and talent. It's a philosophy that was true of classical statuary and one that's been embraced in modern art and modern interior design. In terms of the latter, HomeThangs.com has released a guide to white lighting fixtures and why they work so well in a modern home.
Traditional lamp shades frequently come either in white or off white, but with few exceptions they aren't particularly attractive or arresting. The appeal of modern lighting fixtures is that they break the mold, shirking traditional form in favor of something more statuesque. From star bursts of tiny lamp shades to tangled spheres of white mesh, white lighting fixtures highlight texture, shape, and unconventional design.
White lighting fixtures can be large or small, but they can pull off very minute detailing better than almost any other color. Because tiny indentations, ridges, and holes catch light and shadow so well, even very small, very intricate lamp shades can show off their details even when the bulbs inside are turned off. Better still, a variety of differently shaped, small lamp shades will interplay with one another, casting shadows on one another to elevate the level of detail.
Modern design in general is prone to cherry picking traditional design and re-envisioning it in a new light, and white lighting fixtures are no exception. From cutout, silhouette-style chandeliers to mobiles made of concentric rings of material, many modern lights echo traditional design in a way that's slightly jarring, going beyond simple copy-cat to creating a new form.
Lamp shades are, of course, designed to shade lamps – that is, to help normalize and soften the harsh glare of a bare bulb while still allowing it to light up a room. But this functionality is easily achieved without such a utilitarian design. White lighting fixtures glow beautifully when lit from the inside, and areas that aren't lit directly do an excellent job of picking up shadows. A white light placed on a white background creates an especially eye-catching figure, even when turned off. Ambient natural light allows some parts of the fixture to blend into the background while others are brought into relief by shadow.
The effect is even more dramatic when the lights are turned on, as the bulbs create a warm, honeyed glow that illuminates some pieces of the fixture while casting others into shadow. Unlike traditional shades, which are typically made in one piece, the best modern lights are made of multiple pieces – miniature shades, a shield of small pieces, stacked shapes, or small ruffles. The more intricate shape, the more the light will show the detail; each piece catches a different kind of light depending on its position relative to the bulb and any natural light sources in the room.
A heavily textured surface only enhances this effect. In the same way that a rough textile lamp shade can be more visually arresting than a simple satin pleated one, choosing a rough white material is a great way to dress up the simple color. A rough texture with thicker patches will help strategically and artistically dim lights, while a very loose, webbed surface will allow small, brighter glimpses of light to peek through.
To find out more about white lighting fixtures, read the full article here, or check out more great designs from Zuo Modern and Nuevo Living.
HomeThangs.com is not only a home improvement superstore, it also provides expert design tips and a comprehensive shopping guide, taking the ideas from professional interior designers, and offering tips to the consumers on how to pick the products to best suit their needs.