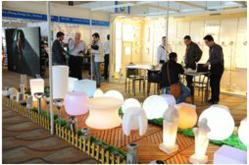 A new exhibitor record with 2,170 lighting manufacturers and suppliers will be present with the Czech Republic represented for the first time
(PRWEB) October 23, 2012
A new exhibitor record with 2,170 lighting manufacturers and suppliers will be present with the Czech Republic represented for the first time. The HKTDC Hong Kong International Lighting Fair (Autumn Edition) will offer diversified exhibition zones, present seminars featuring the latest lighting trends and industry updates, and introduce the Hong Kong International Lighting Products Award.
Industry trends in recent years have been towards energy conservation and environmentally-friendly lighting. To meet industry needs, the fair once again highlights its LED and Green Lighting zone, which is expected to bring together over 800 lighting manufacturers and suppliers to a wide variety of energy-saving lighting products. The fair will also present a brand new Advertising Lighting Zone for LED display panels, light boxes and neon signs, and a Smart Lighting & Solutions Zone, for smart lighting switch/control panels and tailor-made lighting solution packages.
The Hall of Aurora also returns to the spotlight, showcasing over 430 quality lighting manufacturers and suppliers from 27 countries and regions. Well-known names such as ASFOUR, BJB, Citizen, CREE, EGLO, EVERLIGHT, Fulham, Fumagalli, MEGAMAN, Neo-Neon, OPTILED, Philips, Seoul Semiconductor, Viri Bright and Vossloh-Schwabe will shine in the Hall of Aurora.
Other lighting exhibition zones include Commercial Lighting, Household Lighting, Outdoor Lighting and Lighting Accessories, Parts & Components. A new section, Batteries/Transformers/Drivers is part of the Lighting Accessories, Parts & Components Zone which lighting manufacturers and suppliers are showcasing this year.
The Unstoppable Green Trend
Lighting Products with LED and sensor switch technology are now part of the mainstream market. For example, a ceiling fan with light can reduce an electricity bill by 10% - 40%. Nanoflex NFX-ID Series, the winner of Green Building Award 2012, can save 25% power; Intelligent LED Lighting System with wireless Dimmer and a light with IPR sensor are also expected to be hot products in the show.
Information events
The Autumn Edition continues to make a contribution to the industry through its seminars. Seminar topics include market trends in LED lighting and its application, and relevant lighting regulations and standards. The Hong Kong Solid State Lighting Industry Conference will also be co-organised on the last day of the fair by the Hong Kong Trade Development Council, the Hong Kong Electronics Industries Association and the Hong Kong Productivity Council.
Hot feedback for debut Products Award
The Hong Kong International Lighting Products Award 2012 is organised for the first time to highlight lighting products of superb quality and design. The inaugural event has attracted over 140 entries. The Award consists of four categories: lighting source, architectural/commercial lighting, decorative indoor lighting and outdoor lighting. Besides the Best of the Fair Award for each category, there are also the Most Innovative Award, Best Eco Design Award and Best Hong Kong Design Award. The Award Presentation Ceremony will be held during the Networking Reception on the fair's first day and winning products will be displayed at Hall 1A Concourse throughout the fair period.
Small-Order Zone proves popular
A number of overseas importers and distributors favour smaller orders with higher frequency and shorter delivery lead times in order to minimise inventory. To provide business opportunities to this category of sellers and buyers, the Small-Order Zone will be set up at Expo Drive to showcase products suitable for ordering in small quantities. HKTDC's data indicates that the zone succeeded in attracting more than 56,000 buyers and generated over 35,000 business connections in several fairs since April 2012.
Concurrent opportunities for buyers
Buyers can visit Eco Expo Asia, which runs from 27-30 October at AsiaWorld-Expo, to find out more about green products and services. HKTDC Hong Kong International Building and Decoration Materials & Hardware Fair and Sports Source Asia, also at AsiaWorld-Expo, are underway 27-29 October and 28-30 October respectively.