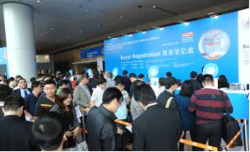 the fair is expected to attract over 2,050 lighting manufacturers and suppliers from around the world.
(PRWEB) October 07, 2011
The 13th edition of HKTDC Hong Kong International Lighting Fair will take place at the Hong Kong Convention and Exhibition Centre from the 27th to the 30th of October, 2011. As the largest lighting event in Autumn, the fair is expected to attract over 2,050 lighting manufacturers and suppliers from around the world.
The lighting industry trend in recent years is going towards energy conservation and environmental lighting. Therefore, the fair will once again highlight its LED and Green Lighting zone; the zone is expected to bring together over 760 lighting manufacturers and suppliers to show their latest innovations in the field with a wide range of environmental-friendly and energy-saving lighting products.
The Hall of Aurora also returns to the spotlight, showcasing over 300 quality brands from 27 countries and regions. Well-known names such as ASFOUR, Bridge Lux, BJB, Citizen, CREE, EGLO, Everlight, Fulham, Fumagalli, MEGAMAN, Midea, Neo-Neon, OPTILED, Osram, Philips, RICOH, Seoul Semiconductor, and Viri Bright have already committed to joining the Hall of Aurora.
The business potential of HKTDC Hong Kong International Lighting Fair 2011 (Autumn Edition) is vast. The fair continues to maximise opportunities for all lighting manufacturers and suppliers by creating specialist exhibition zones, including Commercial Lighting Equipment, Hall of Aurora, Household Lighting, LED & Green Lighting, Lighting Accessories, Outdoor Lighting, Parts & Components, and Lighting Management Design & Technology.
As the market continues to view lighting in terms of fashion and style, the need for good design is growing in the industry. To promote lighting design talent, the fair presents the 5th Hong Kong Lighting Design Competition with both an Open Group and a Student Group. The winning entries in both groups will be on display at the fairground throughout the event.
A fair with over 2,050 lighting manufacturers and suppliers not only caters for product sourcing, but also provides opportunities for industry players to share their insights. Seminar on various aspects of LED Lighting will be organised, such as application in plants growing, and standardisation and certification. In addition to seminars, a networking reception for buyers and exhibitors to develop business contacts will also be organised.
Running concurrently at AsiaWorld-Expo will be Sports Source Asia (27-29 October), Hong Kong International Building and Decoration Materials & Hardware Fair (27-29 October), and Eco Expo Asia (26-29 October). This concurrence attracts more buyers to Hong Kong and is a great opportunity for both buyers and exhibitors to look for new possibilities outside their normal business scope.
###