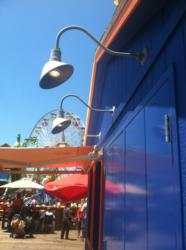 From their foundation they are better quality than imports.
Los Angeles, CA (PRWEB) July 03, 2012
Owner of ALightingStore.com (ALS) announces that all barn lighting products sold by the company are made completely in America; keeping quality high, inventory well-stocked, and jobs in the United States.
The barn lighting products are made in Los Angeles, California.
"So much lighting is being imported," owner Aaron Abergel says, "and with that a reduction in quality occurs, and availability."
In the lighting industry specifically, American-made products are much higher quality than those that are imported.
American lighting products begin with American steel, so from their foundation they are better quality than imports. Then the steel is hand-spun instead of machine-spun yielding an even higher quality product. And the production is completed in smaller quantities in order to ensure that each product meets top standards of excellence.
The American-made level of quality provides fewer product malfunctions, and longer lasting lighting products and accessories.
Also, when manufacturing is done locally, American companies like ALS have the opportunity to control their inventory quickly based on current demand. The lead time for their products is only two weeks, Abergel says, while it is six-to-eight weeks for companies that use imported lighting products.
This speed in stocking inventory helps customers by providing a quick turnaround time for orders. You can see here that 11 of the 19 reviews for ALS on eKomi.com mention their fast shipping. This would not be possible without a domestic manufacturer to quickly provide necessary products.
ALS joins a prestigious list of companies that support manufacturing in America such as Boeing, Frito Lay, Freightliner and more.
The United States Bureau of Labor Statistics estimated that 1.6 million American jobs in 2011 came from the manufacturing industry alone.
About ALightingStore.com
ALS has been open since January of 2010 and Abergel comes from a family with a long tradition in the lighting industry. ALS will open a new physical location on July 5th, 2012; ABBA Wholesale Electrical & Lighting Supplies located at 11646 W Pico Blvd, Los Angeles, CA 90064.
Their most popular products are vintage barn lights, and they provide anything from indoor chandeliers to landscape lighting and everything in between. Their mission statement is to provide high quality service for affordable prices, and they achieve that through their commitment to American manufacturing.