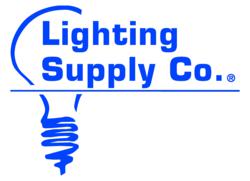 We're thrilled to assist our customers in obtaining over $882,000 in DTE Energy rebates in 2012.
Ferndale, MI (PRWEB) February 20, 2013
Lighting Supply Company, Michigan's leading commercial lighting distributor, retained its top position as DTE Energy's No. 1 Designated Trade Ally in southeast Michigan for rebate applications paid for the installation of energy-efficient technologies. This past year, the company surpassed its 2011 milestone and exceeded the closest area lighting supplier by 310 paid claims.
"We're thrilled to assist our customers in obtaining over $882,000 in DTE Energy rebates in 2012," said Matt McIntosh, Lighting Supply sales director. "On a yearly basis, these customers will save approximately 11 million kilowatt-hours. That equates to an estimated annual energy savings of $1.2 million based on $.11 per kilowatt-hour."
Art Van, Michigan's largest furniture retailer, benefited significantly by partnering with Lighting Supply. Art Van replaced inefficient incandescent PAR30 lamps with current LED technology in its 17 southeast Michigan stores. This resulted in a $200,000 DTE Energy rebate, $350,000 in annual energy savings and a short 18 month payback.
Over the past four years Lighting Supply customers have received $1.5 million in rebates and saved approximately $2.2 million annually in energy bills (19.8 million kilowatt-hours). In addition to the impact on the bottom-line, these customers spend less time on lighting maintenance and have positively impacted the environment – eliminating more than 39 million pounds of carbon dioxide from the atmosphere. That's the same as removing 3,398 cars from the road or planting 58,925 trees.
"The benefits of upgrading lighting systems are numerous," McIntosh said. "But, with rapid changes in lighting technology, some customers don't know where to start. We can help. Our team of experts is here to educate customers on their options, develop lighting layouts that make practical and economic sense and assist in completing the rebate paperwork."
About Lighting Supply
Lighting Supply Company is one of the Midwest's largest commercial lighting distributors and is southeast Michigan's No. 1 DTE Energy Designated Trade Ally for originating paid lighting energy rebates. With locations in Ferndale and Wixom, MI, as well as on the web at LightingSupply.com, Lighting Supply provides unmatched industry expertise, same day shipping and a commitment to 100% customer satisfaction.
The company has serviced commercial customers and businesses with the highest quality replacement lighting for 29 years and offers a selection of more than 8,000 trusted lighting products, including lamps, ballasts, fixtures, controls and lighting accessories from respected manufacturers such as Philips, Philips Advance, Universal, Toshiba, Sylvania, GE, TCP and others.