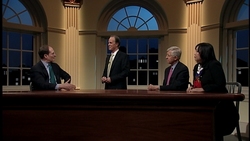 Leaders need to see that operating with integrity and achieving excellent returns in no way conflict.
Milton, MA (PRWEB) February 23, 2010
Every day in corporations around the world, careers, capital and time-honored brands that may have taken decades to build are put at risk. Because – as a never-ending stream of news stories keeps proving – corporate ethics scandals can sweep them away in the blink of a news cycle.
Behind these headlines there are always stories – compelling and confounding – about everyday business people who gambled on ethics to meet business goals. The ongoing stream of scandals begs the question, "Why does this keep happening?"
There is another, virtually untold side to this story. Every day companies with workforces the size of cities, operating in challenging environments around the world, manage to keep their personnel on the right path. When they do, few notice enough to even ask, "How do these companies do that?"
From WGBH Studios in Boston, moderator and business ethics expert Thomas Donaldson and a panel of highly-regarded business executives take viewers beyond the headlines to show both sides – why some businesspeople take the ethical low road, and how the best companies steer their people through the toughest ethics challenges to make sure this doesn't happen.
"In Search of the Good Corporate Citizen comes at critical time," says Donaldson, a Professor at The Wharton School. "With the global economic meltdown raising new ethics questions, trust in business is at an all-time low. This program shows us a path forward."
"In Search of the Good Corporate Citizen can help us shape the next generation of business executives," adds program panelist Bill George, former Medtronic CEO and bestselling author, 7 Lessons for Leading in Crisis. "Leaders need to see that operating with integrity and achieving excellent returns in no way conflict."
In Search panelist Benjamin Heineman, former General Counsel at General Electric and author of a recent book on financial performance with integrity, emphasizes, "There is a crisis in capitalism today because wayward corporate leaders have forfeited trust. This program shows how to regain that trust through a business culture that embeds respect for law, ethical standards and values like honesty, candor and fairness deep in commercial operations."
In Search of the Good Corporate Citizen, from an Emmy-winning team of producers, weaves expert panel discussions with personal accounts from real-life white-collar criminals and whistleblowers and "person-on-the-street" interviews from the financial centers of New York and London.
In Search of the Good Corporate Citizen is sponsored by Altria Group to foster and support business ethics discussions with thought leaders and business students. "Altria Group is pleased to fund this important production", says Charlie Whitaker, Senior Vice President, Human Resources and Compliance, Altria Client Services, "The program profiles real-life issues that companies must deal with and highlights the value of a strong culture of compliance and integrity within organizations."
An outreach campaign to executives and business school students got underway in the fall of 2009. In collaboration with the Business Roundtable Institute for Corporate Ethics, the producers have secured screenings of the program at business conferences including: the Conference Board, Ethics and Compliance Officers Association, Compliance and Ethics Leadership Council and Society of Corporate Compliance and Ethics.
To reach business students, there was a screening at Net Impact's nationwide annual leadership meeting hosted at Cornell University, and upcoming screenings have been scheduled at business schools including the Darden School at the University of Virginia.
"In Search of the Good Corporate Citizen" was produced by Light On Productions in association with Connecticut Public Television as the presenting PBS station. It has been released to public television stations nationwide (check local listings) through the National Educational Telecommunications Association (NETA).
Light On Productions® mission is to shed light on important issues and real solutions, through storytelling and other engaging broadcast techniques.
Connecticut Public Television (CPTV) – a service of the Connecticut Public Broadcasting Network – is a nationally recognized producer and presenter of quality public television programming. CPTV remains committed to bringing the best in educational programming and services to Connecticut and the nation.
The nonprofit National Educational Telecommunications Association (NETA) Program Service enriches public television by delivering 1,000 program-hours of one-of-a-kind documentaries and diverse informational series to PTV stations across the country.
###