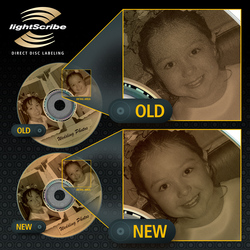 Enhancing image quality demonstrates LightScribe's ongoing commitment to improving the customer experience
Corvallis, Oregon (PRWEB) September 5, 2007
LightScribe Direct Disc Labeling today announced enhancements that reduce graininess and improve fine detail reproduction for LightScribe's DVD / CD labeling. The stunning results are instantly visible on photos, graphics and text on LightScribe CDs and DVDs. The enhanced image quality is available immediately through a free upgrade of the LightScribe system software and requires no additional changes to customers' systems or new hardware and media. LightScribe customers will experience the image quality improvement when they update to the latest version of the LightScribe system software, available for download on http://www.lightscribe.com.
The LightScribe system software will also be preloaded on LightScribe-enabled personal computers and included with DVD writers. The new enhancements do not impact LightScribe labeling time and work with all LightScribe media -- CDs, DVDs, and color background CDs.
"Enhancing image quality demonstrates LightScribe's ongoing commitment to improving the customer experience," said Kent Henscheid, marketing manager for LightScribe. "With the new system software enhancements, customers can now burn LightScribe CDs and DVDs with even better results."
LightScribe -- a laser DVD / CD label burning technology found in many popular brands of disc burners, laptops and PCs -- gives people the ability to easily burn silkscreen-quality photos, graphics, images and text directly onto LightScribe CDs and DVDs. A simple title printed in normal mode will typically take a couple of minutes. A fuller disc image will take approximately 15-20 minutes. LightScribe CDs are available in original gold, red, orange, yellow, blue and green.
LightScribe-enabled CDs, DVDs, software, desktops, notebooks, aftermarket optical disc drives and duplicator systems are available at major retailers worldwide, as well as through most leading brands online.
About LightScribe:
LightScribe Direct Disc Labeling offers consumers and businesses a simple, no-hassle way to burn professional-looking, silkscreen-quality labels on their CDs and DVDs. LightScribe extends optical media, recorders and software through an integrated system of media with special laser-sensitive coating, laser control and imaging drive modifications, and labeling software enhancements. LightScribe uses the same laser that burns data in the disc drive to create precise, iridescent labels. LightScribe technology was developed and patented by HP. A business unit of HP, LightScribe licenses its technology to optical industry leaders in drive and media manufacturing and to hardware, media and software brands. Additional information about LightScribe is available at http://www.lightscribe.com.
###