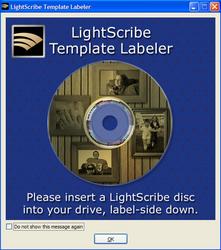 Corvallis, Oregon (PRWEB) November 28, 2007
LightScribe Direct Disc Labeling today announced the immediate availability of the LightScribe Template Labeler, labeling software designed to simplify and enhance customers' CD and DVD labeling. The Template Labeler complements the capability of the LightScribe Simple Labeler, launched in February 2007. The Template Labeler allows customers to create full label designs with its easy user interface. The new labeling software is available immediately for free download on LightScribe's website.
Anyone owning a LightScribe-enabled computer or external CD or DVD burner can download the LightScribe Template Labeler and immediately create professional-looking full disc designs - complete with personalized photos and text - in a few simple steps:
1) Insert a LightScribe disc label-side down into the drive;
2) Choose a template design, then simply drag and drop in photos and add personalized text to the label design;
3) Preview the design against a choice of six LightScribe disc background colors and burn the label.
Six LightScribe template packs of new label designs are available for the Template Labeler: LightScribe Art Pack, LightScribe Holiday Pack, LightScribe Weddings Pack, LightScribe Special Occasions Pack, LightScribe Sports Pack and LightScribe Business Pack.
The Template Labeler and the new label design packs can be downloaded at http://www.lightscribe.com for free and works on computers running Windows (Vista/XP/2000). In addition to English, LightScribe Template Labeler for Windows will be available beginning in December 2007 in 23 languages, including Arabic, Simplified Chinese, Traditional Chinese, Czech, Danish, Dutch, German, Greek, Finnish, French, Hebrew, Italian, Japanese, Korean, Norwegian, Polish, Portuguese, Portuguese-Brazilian, Russian, Slovakian, Spanish, Swedish and Turkish.
LightScribe -- a laser DVD / CD label burning technology found in many popular brands of disc burners, laptops and PCs -- gives people the ability to easily burn silkscreen-quality photos, graphics, images and text directly onto LightScribe CDs and DVDs. A simple title printed in normal mode will typically take a couple of minutes. A fuller disc image will take approximately 15-20 minutes. LightScribe CDs are available in original gold, red, orange, yellow, blue and green.
LightScribe-enabled CDs, DVDs, software, desktops, notebooks, aftermarket optical disc drives and duplicator systems are available at major retailers worldwide, as well as through most leading brands online.
About LightScribe
LightScribe Direct Disc Labeling offers consumers and businesses a simple, no-hassle way to burn professional-looking, silkscreen-quality labels on their CDs and DVDs. LightScribe extends optical media, recorders and software through an integrated system of media with special laser-sensitive coating, laser control and imaging drive modifications, and labeling software enhancements. LightScribe uses the same laser that burns data in the disc drive to create precise, iridescent labels. LightScribe technology was developed and patented by HP. A business unit of HP, LightScribe licenses its technology to optical industry leaders in drive and media manufacturing and to hardware, media and software brands. Additional information about LightScribe is available at http://www.lightscribe.com.
###