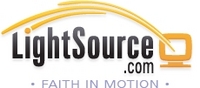 LightSource.com has been a valuable asset for ministries in providing an expanding and engaging online audience of individuals who want to support the ministries work.
Richmond, VA (Vocus) August 4, 2009
Christian ministries and evangelists have found it increasing difficult to reach new audiences as a result of declining television use. But with increasing internet usage and online video streaming, ministries are finding a wealth of opportunity to expand their broadcasts reach and engage their supporters. Online Christian video website, LightSource.com, has not only seen a significant increase in visits and pageviews for ministries such as Joel Osteen, Turning Point with Dr. David Jeremiah, Joyce Meyer, Beth Moore, and Life Today, they've also seen a lift in support and donations for ministries.
"With decreasing television use in the home, broadcast ministries are facing a difficult time growing their viewing audience. Ministries are in need of new methods for reaching more people and raising support for their ministry's work." said Brad Mauldin, Director of Ministry Relations at Salem Web Network. "LightSource.com has been a valuable asset for ministries in providing an expanding and engaging online audience of individuals who want to support the ministries work."
A new teaching series from Beth Moore that was promoted across LightSource.com and other Salem Web Network properties brought the ministry a return that was twenty-five times the cost of monthly service for online broadcasting. The results established Salem Web Network as a viable addition to their integrated television and media strategy.
Both mega-church broadcast ministries and local Christian ministries like TD Jakes and the Potters House, Brian Houston with Hillsong TV, Thomas Road Baptist Church with Jonathan Falwell, and Morning Star Baptist Church with Rev. John Borders, are equally benefiting from the audience provided by LightSource.com. Ministries are given additional opportunities to distribute their resources with free video podcast downloads and special offers for their products such as books and DVD's.
"This is a great website for those of us who are longing to hear services daily not just on Saturday and Sunday! Thank you for helping us all grow in a deeper and more intimate relationship with our LORD and Savior Jesus Christ!" said Jeff, a visitor to LightSource.com.
Visit LightSource.com on Facebook at http://www.facebook.com/lightsourcecom
Follow LightSource on Twitter at http://twitter.com/lightsourcecom
About LightSource.com
LightSource.com, recently named the Broadcast Site of the Year by the National Religious Broadcasting Association, offers video streaming, video podcasting, online Bible Study Tools and daily devotionals from well-known and respected Christian pastors, authors, and speakers. Acquired by Salem Web Network, LightSource.com has quickly become the leading online video website for Christian ministries.
About Salem Web Network:
Salem Web Network, the online division of Salem Communications, began in 1999 with a single website - OnePlace.com. Today, SWN consists of 12 national sites, including the most well known brands in the faith marketplace, such as Crosswalk.com, OnePlace.com, BibleStudyTools.com, and Christianity.com. Additionally, more than 50 radio station websites are part of SWN's platform, which now reaches more than 7 million users every month. Visit: http://www.salemwebnetwork.com
About Salem Communications:
Communications (NASDAQ: SALM) is a leading U.S. radio broadcaster, Internet content provider, and magazine and book publisher targeting audiences interested in Christian and family-themed content and conservative values. In addition to its radio properties, Salem owns Salem Radio Network(R), which syndicates talk, news and music programming to approximately 2,000 affiliates; Salem Radio Representatives(TM), a national radio advertising sales force; Salem Web Network(TM), an Internet provider of Christian content and online streaming; and Salem Publishing(TM), a publisher of Christian-themed magazines. Upon the close of all announced transactions, the company will own 93 radio stations, including 59 stations in 23 of the top 25 markets. Additional information about Salem may be accessed at the company's website, http://www.salem.cc.
Contact: Kristie Rutzel
(804) 205-9674
kristie.rutzel(at)salemwebnetwork.com
###