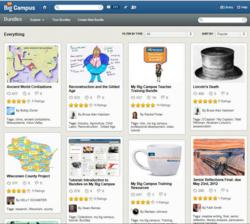 If Bundles were any easier, it would be as if my lesson plans could write themselves.
Bakersfield, CA (PRWEB) May 22, 2012
There's lots of great educational content out on the Web. But when it comes to putting that content to practical use in classrooms, teachers still face the challenges of vetting, accumulating, organizing and distributing it. The newest feature of My Big Campus, Bundles, makes it easy for teachers to collaborate, create and share self-contained, standards-based lessons—pulling content from the My Big Campus Resource Library, their own collections and assessments, or from the hundreds of thousands of other teachers on My Big Campus.
My Big Campus is the safe, social learning platform from Lightspeed Systems, leaders in K12 content filtering and online safety. Nearly one million users log in to My Big Campus to manage schoolwork, engage in discussions, find resources, collaborate with peers—and make online learning a safer, easier, more engaging experience. Content in the My Big Campus Resource Library and Bundle Exchange is safe, CIPA-compliant, filtered, and monitored.
The new Bundle Exchange is a central spot where My Big Campus educators can post and share their Bundles. Bundles can be filtered by topic, keyword, creator, standard, and more. Bundles can be rated, watched, shared to social media sites, or branched so a user can adapt someone else's Bundle to meet his or her unique use.
With Bundles in My Big Campus, teachers can:

Collect videos, group content, documents, assignments, quizzes, text and more into self-contained online lessons
Collaboratively produce Bundles of digital curriculum to replace textbooks
Align with State and Common Core Standards
Share Bundles with students, a group, a school, a district, or the entire My Big Campus educator community
Find and adapt other Bundles with the Bundle Exchange
Students can create Bundles, too—for projects, reports, assignments, presentations, digital portfolios, and more.
Instructional technologists can deliver professional development through Bundles.
Bundles are just another feature of My Big Campus that makes it easy and safe for teachers to do amazing things in time-strapped, resource-limited classrooms. When Bundles were released in Indiana, teacher Jenn Brower declared, "If Bundles were any easier, it would be as if my lesson plans could write themselves." Another teacher, Susan Wimmer, says, "My goodness, with the task I have planned for this summer, understanding bundles has simplified my life!"
To learn more about Bundles and My Big Campus:
> Check out this Bundle about Bundles.
> Then create your own free My Big Campus account.
About Lightspeed Systems
To us, education isn't an industry; it's a passion. Our solutions make it safe, secure, and easy for IT staff to give users access to resources that make learning engaging, collaborative—and real.
Since 1999, Lightspeed Systems has been partnering with, listening to, and supporting IT staff in schools—making their day-to-day tasks manageable and their educational goals reachable. Today our solutions are used in more than 2,500 school districts for more than 7 million students. Our products have won numerous awards and our company has been recognized on the Inc. 5,000 list as one of the fastest-growing private companies for the last five years. But more than what we've done, we're interested in what we can do, together: transform education. For more information, call 661-716-7600, or visit http://www.lightspeedsystems.com.