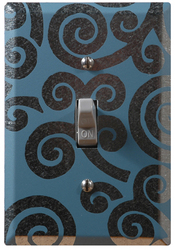 Flopping Fish switch plates, door bells, house numbers and decorative signs are like poetry for your home; whispers of art that add character in unexpected places
Seattle, WA (PRWEB) January 29, 2008
Flopping Fish, creator of artisan-crafted, elegantly functional hardware to distinguish your home or office spaces, has introduced three new collections of handcrafted switch plates. Whether your décor is modern or old world, or any style in between, the versatile switch plates in Flopping Fish's new collections will enhance and beautify any room with a unique sophistication and charm.
The new collections are made in galvanized steel and white metal, and are etched and hand silk screened. The new Flopping Fish switch plate collections include:
The Loft Collection
The Loft Collection offers an elegant yet industrial look for urban spaces and people. Think concrete floors, stainless steel fixtures, exposed brick and duct work. Flopping Fish meticulously etches and clear coats each switch plate by hand to ensure optimal quality. Retail $16-$25. Available in singles, doubles and triples.
The Latte Collection
The Latte Collection is an ivory-on-white combination that is upscale without being ostentatious and is ideal for white or beige walls and furnishings. The ivory color is specially mixed to match ivory electrical switches, so they work as a perfectly-matched unit. Retail $13-$18. Available in singles, doubles and triples.
The Chroma Collection
The Chroma Collection is a duet of galvanized metal and colorful patterns that accent rooms with originality. Made using the same material as metal ducts and garbage cans, the Chroma Collection offers a handcrafted alternative look for a trendsetting crowd. Retail $13-$18. Available in singles, doubles and triples.
"Flopping Fish switch plates, door bells, house numbers and decorative signs are like poetry for your home; whispers of art that add character in unexpected places," said Flopping Fish founder and Creative Director/Artist Lisa Young. "And with the launch of our newly redesigned Website, customers have the opportunity to personalize their shopping experience by sorting switch plates by collection, pattern or configuration. Additionally, we've created a wall color and wall texture preview tool so customers can find the exact products that will enhance their specific spaces."
Flopping Fish continues to offer its Signature Collection of switch plates, which is made of copper with distinct etchings and is hand tarnished. For all Flopping Fish products, visit http://www.FloppingFish.com
About Flopping Fish
Flopping Fish believes any space, in any room, in any home or office can be both elegant and functional. Flopping Fish products include artisan-crafted copper, galvanized steel, and white metal switch plates, door bells, house numbers and plaques. All Flopping Fish products are designed and finished by hand through a complex, thoughtful process which combines equal parts artistry, machinery and chemistry. Made by hand and with heart in the USA. http://www.FloppingFish.com
###