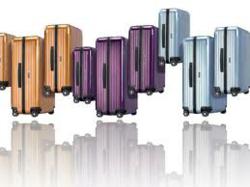 FEATURING Rimowa, Samsonite and Victorinox with an exclusive FREE SHIPPING OFFER! DOMESTIC orders are shipped free of charge with ANY PURCHASE and INTERNATIONAL orders are shipped free when purchasing $500 or more.
Rancho Cucamonga, CA (PRWEB) March 08, 2012
Busy travelers and professionals are always searching for the most efficient way of traveling long distances. Lightweight-Luggage-Shop.com understands traveling can be an enjoyable and exciting activity, but can also become very tiresome and stressful if done repeatedly. Most travelers worldwide realize the advantage of lightweight luggage and the ability to maximize packed items by minimizing their overall luggage weight giving them freedom to carry all the bare necessities without effecting comfort and paying overweight fees.
Lightweight-Luggage-Shop.com offers their customers various sizes that are not only considered fashion statements but are also designed for a purpose. Travel luggage is available in small compatible sizes, which meet the requirements from the TSA as products that are considered as "carry-on luggage" products to larger lightweight sizes that accommodate all of your travel needs. Finding luggage which is offered at discounted and cheap prices which also has comfort features is very difficult to find in many countries around the world. Lightweight-Luggage-Shop.com offers the top brands in which you will receive the very best deals and shipping options available on the web.
Apart from the low prices and free worldwide shipping options to any country, Lightweight-Luggage-Shop.com also offers the largest variety in lightweight luggage from Rimowa, Samsonite and Victorinox. At Lightweight-Luggage-Shop.com, "We cater to all sorts of luggage from carry-on products to small getaway bags to an outstanding selection of large cases. A detailed description is provided for all products, which includes all styles and colors available, as well as the weight and size of various luggage series." As our President notes, "We also provide images of the products and their detailed reviews, along with our featured carry-on and top sellers. The prices are also shown with any special deals, offers and factory incentives. Our product selection and check out process is consumer friendly and very fast."
For detailed product descriptions and specifics on their specific shipping policy visit http://www.Lightweight-Luggage-Shop.com.
About the Company:
L:ightweight-Luggage-Shop.com – a division of Luxury Products, Inc. is a factory authorized dealer for Rimowa, Samsonite, Victorinox and many more high end luggage and lightweight luggage companies.