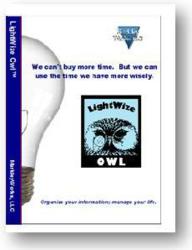 If we can help even one young person make a better connection between personal organization and long-term success, our initiative will have been worthwhile.
Tampa, Florida (Vocus/PRWEB) March 01, 2011
MarkleyWorks, LLC today announced a new initiative to help parents who are trying to guide their sons and daughters into more productive pathways to success. Through this initiative, "A Navigational Aid for Young People Adrift," LightWize Owl is being made available at a 50% discount from the normal retail price.
Most parents recognize that growing up in today's complex world is far more difficult than it was in previous generations. In his book "Boys Adrift," Dr. Leonard Sax talks about several factors, including changes in the school environment and addiction to video games, which are producing increased numbers of boys who are unmotivated and young men who are underachieving. In his followup book "Girls on the Edge," Dr. Sax explores different but equally compelling forces that are driving young girls to lean away from achievement and success. As is the case with boys, girls are not finding a well-defined framework in which the path to succeeding is clearly differentiated from the path to failure.
Whatever the cause, the dilemma of young people adrift is on the rise. According to Dale Markley, Business Director of MarkleyWorks, "We know there is no single solution to this dilemma, and we know we can't buy a new mindset for our children. What we can do, however, is give them an opportunity to make wiser decisions and make better use of their time as they search for their own pathway to success. Owl fills the bill by offering a real-life platform on which challenges exist in real time, creativity can be exercised, and tangible, life-enhancing outcomes can be developed."
Owl, which is a Windows-based personal organization system, provides an environment in which a complete array of life skills can be honed:

the ability to plan, schedule, prioritize, and stay on track with commitments;
the capability of formulating an overall life strategy, and the ability to foresee coming events and take them seamlessly into account;
the power to reduce stress through knowing that all responsibilities and commitments have been captured and incorporated into that strategy;
the capacity to identify important events and historical information and archive them in such a way that maximum future benefit can be derived through minimum retrieval effort;
the ability to think creatively and develop insightful solutions to information management and day-to-day organizational issues;
the discipline to establish and manage a budget through both short-term and long-term financial tracking;
the efficiency that comes with avoiding duplication of work and repetitively searching for the same pieces of information; and
the ability to be as streamlined and effective as possible in running one's own life in today's complex world.
"We're very excited about 'A Navigational Aid to Young People Adrift' and the opportunity it affords us to give back to the community," said Ross Markley, Technical Director of MarkleyWorks. "We're acutely aware of how difficult it is for young people to contend with the issues of growing up today, especially in comparison to the relative calm of the '50's and '60's. If we can help even one young person make a better connection between personal organization and long-term success, our initiative will have been worthwhile."
This program can be accessed, and additional information is available, at the LightWize Owl website – http://www.MarkleyWorks.com. The 50% discount is available until May 30, 2011, and can be obtained by using the promotion code "Navigation."
About MarkleyWorks, LLC:
MarkleyWorks is a privately-owned company based in Tampa, Florida. It was established for the purpose of creating "quality of life" software that would help the average person gain control over the personal computer and its use as a tool to manage personal information. While the primary objective of the Owl is to organize data and allow push-button retrieval of important information, the system also saves time, reduces stress, and provides a solid springboard to success in today's complex world.
# # #