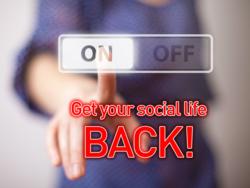 We saw a tremendous raise in our customer requests from all over the world following the PRISM breaking news
Paris, France (PRWEB) June 25, 2013
Big Brother and other government entities are watching. This is no longer a conspiracy theory, it is a fact. With the recent news of the NSA using programs such as PRISM to obtain information on Facebook users, social media types are looking into ways to protect their privacy and still share special moments with friends and family. Likebook, a service that lets Facebook users create a physical book of their Facebook status updates, photos, and life events as far back as 2007, is an alternative that many Facebook users are turning to in light of the recent admissions by the NSA of using spying programs on users of Facebook.
Social media sites like Facebook have not ever been private, but users have been able to choose whom they share their information with. When the NSA made the American public aware that they have direct access to Facebook and other major online services' servers to spy on users, users have turned to Likebook.me to export their data out of Facebook and create a keepsake book that houses all of the information they have posted to the social media website. "We saw a tremendous raise in our customer requests from all over the world following the PRISM breaking news," says Patrick Osinski, Marketing Director of Likebooks.
Likebook launched in 2010 and was the first of its kind to take status updates and publications from users on the social media giant, Facebook, and place them into a physical book for the user. Since its launch, Likebooks won the Rio Info Startup contest in São, Brazil in 2012 and has seen business increase with individuals and businesses looking to keep their Facebook information secure.
As a one-click book creation service where the user can automatically turn Facebook contents into a book, Likebook's customers have found the benefit in the service offered through the Likebook.me website and value that a private company can compile their Facebook data into a physical archive. "With the recent news of government spying, I realize that I had several years on my personal life online and that it may not completely safe to rely on a private company to keep it. I have found in Likebook a very convenient way to extract my online journal to keep it for myself and my family," says Roger, a customer of Likebook. The customization options are extensive and prices include worldwide delivery—including to the US.
Government spying by the NSA with programs like PRISM is not likely to stop anytime soon. For Facebook users who want to choose what they share of their personal life, Lifebook is an affordable alternative to having all of that personal information available online being open to the prying eyes of the NSA and other data mining entities. "We believe that users are now more aware of their privacy than before. We just provide a convenient way to protect it," says Osinski. Likebooks helps Facebook users see they have options with what they share and how—even with the spying programs from the government continuing.
For more information on Lifebook, visit http://www.likebook.me or e-mail press(at)likebook(dot)me.