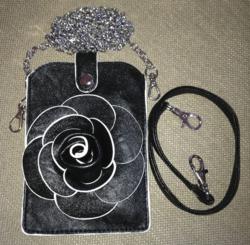 Ladies of all ages are in love with Lil Flower Cell Phone Purse. IT'S GREAT to have the option of wearing it as a wristlet or cross body! Thank you! again!!
Albuquerque, NM (PRWEB) June 25, 2013
Nifty-Nifty.com, the leading online retailer of nifty, innovative products as seen on TV, is excited to launch their new product Lil Flower Cell Phone Purse. Ladies are faced with the dilemma how to carry only their cell phone, credit cards, ID and money, and still look trendy. Nifty-Nifty.com has the answer - Lil Flower Cell Phone Purse, which can be worn as a cross body cell phone purse or as a wristlet. With two slip pockets on the back for credit cards and ID and ample space for the cell phone and more inside, Lil Flower Cell Phone Purse has it all and it's compact and trendy. Lil Flower Cell Phone Purse is now available to shoppers in USA and Canada with zero shipping costs and to shoppers in New Zealand, France, Israel, Mexico, Spain, Italy, France, Chile, Brazil and elsewhere internationally - just about anywhere, with a low shipping cost of just $5.00. The Circles Luxury cell phone wallet showcased on TV and is now available at Nifty-Nifty.
"We have sold innovative, trendy products for quite some time," explained Wendy Miller, co-owner of Nifty-Nifty.com.  "We are excited that we are one of the very few online retailers to sell Lil Flower Cell Phone Purse cross body or wristlet with zero shipping costs to our Canadian customers. Our Canada shipping program has been so successful we are extending it!"
For more information on the Lil Flower Cell Phone Purse cross body and/or wristlet, go to:

About Lil Flower Cross Body Cell Phone Purse
Lil Flower Cross Body Cell Phone Purse is as cute as can be, its trendy and functional.  Lil Flower CrossBody is a cell phone purse, a great iPhone purse, the best cell phone wallet, a really nice soft cell phone purse/holder, the best cell phone wallet, also the best cell phone bag.  Lil Flower across body iPhone purse can be worn as a cross body cell phone holder because it comes with a cross body chain - no extra charge for this.  It's a mini cross body bag for a cell phone, a perfect cell phone wallet, credit card cell phone case, it's the cross body with the rose on it! Lil Flower Cellphone Holder mini purse/wallet is hands free.  Made of Faux Leather so well that you and others will think that it is real leather - and here's the bonus, unlike any other cell phone purses, Lil Flower has TWO slots on the back for credit cards.  Carry your iPhone or Android and your credit cards comfortably as an across your body, cross body purse, or as a wristlet.   Measuring 4 inches across and 6 inches down, Lil Flower Cell Phone Purse has two inter-changeable straps, one for when you want Lil Flower cell phone purse to be a wristlet and the other is an elegant chain for when you want to wear Lil Flower as a Cross Body Cell Phone Purse as an across your body cell phone purse and look cute and elegant.  Make a WOW statement. Don't want to wear Lil Flower, Cross Body and still want a handsfree option - attach one or two of our Klips and wear Lil Flower Cross Body Cellphone Holder/Mini Purse/Mini Wallet on your waistband as a hip bag. Minimize efficiently.  Lil Flower Cross Body Cell Phone Purse is how to carry a cell phone without pockets. With Lil Flower Cross Body Cell Phone Purse you don't need pockets or belt loops, simply wear your Lil Flower Cross Body Cell Phone Purse across your body or as a wristlet and you're good to go no matter what you are wearing, be it sweats or shorts or a bikini, no matter how you wear it, you will look as cute as can be. Lil Flower Cross your Body Cellphone Holder is a unique gift idea for special occasions, for wedding favors and more.
You can buy Lil Flower Cell Phone Purse and Wallet from Nifty-Nifty. We have free shipping, excellent customer service,
About Nifty-Nifty.com
Nifty-Nifty.com is the world's leading online retailer of innovative, nifty products. The company specializes in online retailing of products such as the Readerest, Phubby, Cross Body Cell Phone Purses, Hip Klips, Lil Flower Cell Phone Purse and Wallet and other innovative online products at the best prices with no charge shipping in the USA and Canada.
http://www.Nifty-nifty.com Tel. 858-248-2302