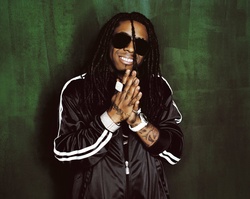 This is a landmark week for Lil Wayne and for our company
NEW YORK (PRWEB) June 18, 2008
"This is a landmark week for Lil Wayne and for our company," said Universal Motown President Sylvia Rhone. "Wayne has not only scored by far the biggest debut of the year, but the highest first week sales in Universal Motown history. He has energized his fans and the retail community by delivering a seminal, original album that defines the state-of-the-art in hip-hop. Wayne's explosive success proves that when the music is there, the consumer is there. This is an event release from a genius artist who represents and speaks for youth culture. 'Tha Carter III' had a brilliant set-up, and I want to thank my entire Universal Motown team and our colleagues at Cash Money for all the hard work, devotion, and enthusiasm that made this day a reality."
GQ Magazine (2007) called him the "greatest rapper in the world," proclaiming him Man of the Year, and Blender Magazine (2008) declared him the "Best Rock Star Alive." Lil Wayne lives up to widespread critical acclaim garnering over 216 million in radio audience at Crossover and Urban radio. The talented rappers stronghold at radio extends to holding the #1 position at Crossover for nine straight weeks.
Two singles from Tha Carter III simultaneously blitz the Top Ten mainstream radio charts including the smash hit "Lollipop" at #2 and "A Milli" at #9, tagged as a Greatest Gainer. With these impressive figures, he eclipses Kanye West by nearly 10,000 units in first week performance. A dozen major retailers including Amazon, Circuit City, Kmart, Target and Walmart show Lil Wayne outselling West since the album dropped on June 10.
Star power sizzles for Lil Wayne, as a follow-up to his biggest solo effort, the multi-platinum Tha Carter II. With success squarely in the bag, Lil Wayne worked diligently to produce Tha Carter III and the result is a carefully honed masterpiece.
Lil Wayne was born and raised in the infamous poverty-stricken section of New Orleans- the 17th Ward. His rise to stardom came in 1995 at the tender age of 12 when he made his debut on his former label mates' B.G's True Story CD. Shortly thereafter, the rap prodigy garnered national attention as a member of the group, Hot Boys, which consisted of rappers Juvenile, Turk and B.G., with their 1997 debut album, Get It How You Live, followed by 1998's platinum certified Guerilla Warfare and 2003's Let Em Burn. Success continued to follow Lil Wayne, as a solo artist, his debut CD, 1999's Tha Block Is Hot reached platinum status and was a #1 Billboard Album. He later released in 2000, Lights Out, 500Degreez in 2002 and his defining album, 2004's gold certified, Tha Carter, which featured the hit single "Go DJ."
Since the release of his last CD, the platinum selling Tha Carter II, Lil Wayne has guest appearances on over 70 songs for other artists including Fat Joe's 2008 Grammy nominated single "Make It Rain," DJ Khaled's "We Taking Over," and Wyclef Jeans' "Sweetest Girl." He also released a duet CD with Bryan "Birdman" Williams titled Like Father, Like Son in 2006 which was a critical and commercial success.
Lil Wayne heralds Tha Carter III, as 'The album he was born to make.'
MULTIMEDIA GALLERY http://www.businesswire.com/cgi-bin/mmg.cgi?eid=5712760