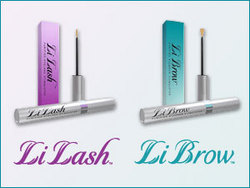 We wanted a way to offer our fans an exciting opportunity to share their story and at the same time be able to get discounts and free product as a reward for spreading the LiLash and Librow word
Scottsdale, AZ (PRWEB) February 26, 2009
Cosmetic Alchemy, maker of the popular eyelash growth and eyebrow growth enhancers, LiLash and LiBrow, is pleased to announce that we've launched a new rewards program as a way of saying thank you to our loyal customers. Fans, who never before were able to grow their eyelashes or eyebrows, have long been spreading the word about the amazing results they are achieving with our products.
"We wanted a way to offer our fans an exciting opportunity to share their story and at the same time be able to get discounts and free product as a reward for spreading the LiLash and Librow word," says Cosmetic Alchemy.
Fans, who have long been spreading the word, can now post their success stories or video testimonials on LilashFacebook or LilashMyspace and receive either a $25 reward towards their next purchase or a free tube of Lilash.
Here's how the LiLash rewards program works:
Share your experience with LiLash and Librow on LiLashMySpace and LiLashFacebook
Become a "fan" or "friend" on our Facebook and MySpace pages and post your testimonials comments or video about LiLash and/or Librow and get rewarded. Share your personal eyelash and eyebrow growth experiences. Our goal is to create a LiLash/Librow community where you can share pictures, comments, videos, tips, and much more with other fans of Cosmetic Alchemy products.Written testimonials receive $25 towards their next purchase. Video testimonials receive either a Free tube of Lilash or Librow.
Read Complete LiLash & LiBrow Rewards Program: Click Here For Details
Read More About Our Products:
LiLash
When used daily, LiLash will grow the appearance of the longest, fullest lashes you have ever had. Applied daily as a liquid eyeliner, you will notice LiLash begin to change your lashes in several weeks. Wait 4-6 weeks and watch your lashes transform right before your eyes. LiLash is the world's most powerful and fastest-acting eyelash conditioner. Our no-salt, nonirritating formula sets LiLash apart from all other products. LiLash is a favorite of eyelash extension wearers who notice better support and less lash breakage.
LiBrow
No other eyebrow conditioner on the market uses true cosmeceutical technology to give you full bold brows. Use the unique applicator to apply LiBrow daily to the skin in areas where your eyebrows need the most help. Patchy uneven brows and weak overplucked arches will all benefit from LiBrow's unique technology. LiBrow is the second chance you never thought your brows would get! In 6-8 weeks of regular use watch your brows pop! A patented botanical tinter will accentuate the natural color of your brows for an even bolder look.
For more information about Cosmetic Alchemy products, Lilash and Librow, visit Lilash.com
###