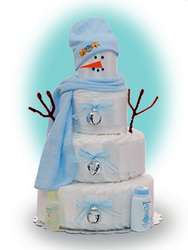 We're delighted that American Baby Magazine featured our Holiday Snow Boy Diaper Cake in their December 2010 issue.
Grand Blanc, MI (PRWEB) November 23, 2010
Lil' Baby Cakes, an online retailer specializing in themed based baby diaper cakes, is pleased to announce six holiday diaper cake designs for the upcoming holiday season. Each cake is designed to resemble a traditional tiered cake except they're made with Pampers Swaddler diapers. The diaper cakes are then decorated to match traditional holiday themes with ribbons and bows to match the colors of the season. Some designs also feature plush animals and products by Johnson & Johnson.
This year, the following holiday diaper cakes are being released for sale exclusively on the Lil' Baby Cakes website.
1. Holiday Snow Boy Diaper Cake
2. Holiday Snow Girl Diaper Cake
3. My First Christmas Diaper Cake
4. My Lil' Reindeer Diaper Cake
5. Lil' Cuddler Holiday Diaper Cake
6. Holiday Gingerbread Diaper Cake
New moms enjoy the practicality of a diaper cakes, as they are made with products the mom is sure to use. In addition, all of the company's designs are handmade to order and shipped within 48 hours anywhere in the USA. Express shipping options are also available for those shoppers needing even faster delivery.
"We're delighted that American Baby magazine featured our Holiday Snow Boy Diaper Cake in their December 2010 issue." said Candy Budyta, owner and creative director of Lil' Baby Cakes. "I was inspired to design this cake because snowmen are one of my favorite holiday decorations. I wanted to share one of my favorite themes with my customers."
In the age of "me too baby gifts", a holiday diaper cake from Lil' Baby Cakes makes a memorable baby gift. Each holiday design as well as the company's other baby gift offerings are available now.
About Lil' Baby Cakes:
Lil' Baby Cakes has been online for 11 years, offering newborn diaper cakes designed around today's most popular themes. Each design is created using only brand name ingredients new mom's know and trust. Customers include family and friends celebrating the birth of a new baby, coworkers interested in sending a corporate baby gift, and by hostesses purchasing diaper cakes as baby shower centerpieces. The company ships their diaper cakes worldwide.
###