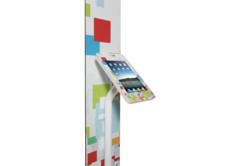 The Lilitab iPad kiosk hits the mark on price, simplicity
San Francisco, CA (PRWEB) August 29, 2012
"The Lilitab iPad kiosk hits the mark on price, simplicity", writes Michael Rose with TUAW (The Unofficial Apple Weblog). "Rule #1 of iPad kiosks is, of course, make sure we don't lose the iPad. That's among the strengths of Lilitab's kiosk line." Integrated into the Lilitab design from the very beginning, businesses can be sure their iPad resources are safe in public venues.
Retailers, hotels, restaurants and events engage their customers using the same secure iPad self-service kiosk. Customers can research-and even purchase-special orders and services, including hotel check-in, using the Lilitab Standard. The Lilitab Swipe head unit offers the most tightly integrated magnetic-stripe reader for any iPad kiosk, without exposed cables or flimsy attachments susceptible to damage or credit card fraud.
"Working with a brand that is all about precision and quality, we needed a partner that could provide event hardware of the same standard. Lilitab's products are well designed, engineered and built to make any brand experience look top notch", Todd Friberg, SVP-Creative Director for emg3. Lilitab and emg3 partnered to create a custom iPad kiosk solution for a touring automotive road show.
Lilitab iPad kiosks, in conjunction with NBC's reality series "Fashion Star", were used in Macy's across the country to engage fans to purchase winning designs in store.
The modular design of the mounting solution provides for several types of customer interactions: handheld, tabletop or freestanding. Full ADA compliance assures the Lilitab provides easy iPad interactions for wheelchair customers.
Installing different home button access faceplates regulates customer interactions. Full web access, a single site or specific applications define the varying customer experiences.
Temporary exhibits and tradeshow booths are easily managed with the lightweight and portable Lilitab kiosk. All of the Lilitab iPad kiosks offer optional and convenient exhibit shipping in rugged, yet portable, ATA approved travel cases.
TechCrunch Disrupt SF 2012 (http://techcrunch.com/events/disrupt-sf-2012/) is TechCrunch's sixth annual conference in San Francisco. The format combines top thought-leader discussions with new product and company launches. During morning executive discussions, technology-driven disruptions in many industries will be debated. Afternoons are reserved for the Startup Battlefield, where 30 new companies will launch for the first time on stage, selected to present from more than 1,000 applications received from around the world. The winning company will receive a $50,000 grand prize and the Disrupt Cup at the conclusion of the conference. The conference is Sept. 10-12, 2012, at The Concourse at San Francisco Design Center located at 635 8th St. (at Brannan) in San Francisco's downtown SOMA district.
Lilitab, based in San Francisco, California, is a group of designers, engineers and business people passionate about the use of table computers in public environments. With their compelling interface, compact form-factor and economical price-point, there are all kinds of new and unique uses for putting interactivity into the public space. Founded in 2011 by Adam Aronson, an award winning kiosk designer, Lilitab is committed to delivering the most secure, functional and stylish security enclosures for ANY tablet. For more information visit http://www.lilitab.com or call 888 705 0190.
Lilitab iPad kiosks to launch power management, RFID scanners and NFC capable product lines at Hardware Alley TechCrunch Disrupt SF 2012.